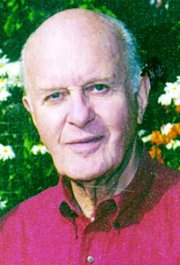 SPOKANE - Former Sunnyside School District Superintendent Dr. Albert L. Ayars died May 27, 2004 in Kirkland.
Ayars was Sunnyside School District Superintendent from 1949 to 1952.
Born Sept. 17, 1917 to Ama and Glen Ayars in Kettle Falls, Ayars grew up in Daisy and graduated from Kettle Falls High School. He attended Washington State University, where he received four degrees, including a Doctorate in education. He married Louise Schaaf, a coed from the Palouse in 1941, according to the couple's daughter, Judy Ayars-Templeman.
As an educator Ayars started as an English teacher in Davenport before becoming principal of Colville High School.
He was superintendent of public schools in Omak and Sunnyside before working in the private sector in New York City as the director of education for the world's largest public relations firm, according to Templeman.
Ayars returned to education in the Northwest in 1965 when he became the superintendent of schools in Spokane. In 1972, he moved to Norfolk, Vir., where he was superintendent and successfully completed a federal mandate to integrate schools.
Throughout his career Ayars was able to implement programs, including work study programs, using volunteers in schools and teaching foreign languages to elementary school children in his school districts.
He authored six professional books and had been a visiting professor and lecturer at numerous universities across the United States.
Ayars was honored for his life and career with recognitions such as American Association of School Administrator's highest honors, Leadership for Learning award, and the Distinguished Service Award.
Highly respected, Ayars ate dinner with four U.S. presidents and served on the White House Conference on Education.
After 43 years of service to education, Ayars retired in 1983 and moved to Kirkland, where he continued to consult and write.
He and his wife also enjoyed traveling, having been to 65 countries.
Ayars was the father to eight children, Cherie and Howard Holman of Kirkland, Judy and Jim Templeman of Kirkland, Lee and Sandy Ayars of Spokane, Dani Jo and Rich Alexander of Twin Falls, Idaho, Dr. Gary and Wendy Ayars of Redmond, Debbie and Jim Dillon of Virginia Beach, Vir., Teddi and Frank Crotti of Corvallis, Ore. and Darlene and Wes Feazell of Charlottesville, Vir. He also has 16 grandchildren.
A memorial service will be held July 5, at 1:30 p.m. at the Sumway Mansion in Kirkland.
Remembrances can be made to the Washington State University Foundation, P.O. Box 641925, Pullman, WA 99164, The Rotary Foundation or Kirkland Interfaith Transitional Housing, 125 State St. S., Kirkland, WA 98034.