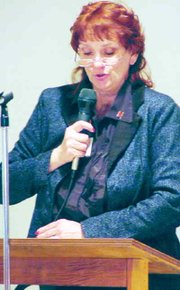 For most of her life Roxanne Bowman of Florence, Ore. thought of herself as a failure.
As a little girl struggling with deafness in one ear, as well as a litany of other ailments, she remembers people saying she should marry well because she wouldn't amount to anything,
Bowman was the guest speaker at the Lower Valley Christian Women's Club luncheon Monday.
As a little girl growing up in California, Bowman said she spoke with what sounded like a Boston accent due to her hearing problems.
She said she was without choice as she grew up relying on doctor to make decisions for her, as well as her parents.
In and out of hospitals, Bowman had her tonsils removed twice and her adenoids were taken out three times.
"During those early days my household was wrought with sickness," said Bowman, adding that her mother also suffered from illness.
"We lived our lives just a little bit above destitute," said Bowman. "But my mom never let us know, it was other kids who let us know."
Bowman said her father had to work two jobs just to pay the hospital bills.
Stress and illness led Bowman's mother to turn to alcohol, when Bowman was a teenager.
As she got older, Bowman expected to be able to make her own choices, but she was constantly told she made the wrong choices. As a young adult on her own, Bowman found her decision-making abilities lacking.
She fell in love with a man she hadn't met, then met him and married him.
"Twelve years later that marriage ended," she said, adding that at the time she had three little girls.
"I had a choice to work rather than go on the welfare system and I chose to work," said Bowman.
She said that her father taught her how to get a job, but not how to keep them.
"I wanted a job, but I didn't want to work," she said. "I lost just about every job I had, and I had lots of jobs."
Still raising her three little girls, Bowman decided to join what she called an alternative religious lifestyle.
She said as one living on the edge of the rock and roll era and the hippie era, in the religious lifestyle she chose she turned to alcohol and drugs.
"I made some really stupid, doozy choices," she said.
Looking for love, Bowman said she met a man who was the first person who ever told her she was worth anything.
"I thought it was due to all the mystical practices I was into," she said.
She tried to draw him into her lifestyle, but he gave her a choice. "He said, you can either have a beginning relationship with me and we're going to church or I'm out of here," said Bowman.
Making failing choice after failing choice, she said she decided it was better to give up the lifestyle she was living and risk going to "some lame church" because the man was someone who truly cared for her.
She said that she had thought that other people making choices for her was wrong, but added that sometimes we need someone to make our choice.
Bowman said she had been living a selfish life that was all about her, not her daughters or anyone else in her life.
"I believed if it feels good, do it," she said.
She said she didn't think God loved her at all, but she added she was more scared of losing this man who loved her.
After her first time attending church, Bowman didn't plan on going back, but a couple weeks later she was back sitting in the pews.
She began to listen to the message being preached and after a few weeks she gave herself over to God, who was, in turn, setting her free from death.
"For the first time I felt just a glimmer of hope," she said. "I found my heart was stronger each day."
She was letting the true teaching of God's word guide her.
"Living life without God in my life I made wrong choices," said Bowman.
Before, she said she lived a life much like a butterfly fluttering from boyfriend to boyfriend, became involved with an adverse religious group, as well as drugs and alcohol.
"Anything I did on my own efforts was in my way," she added.
Without Jesus, Bowman realized she was separated from God.
"I was rejecting his free gift of life," she said.
Accepting Jesus, Bowman felt renewed after a life of living her own way and facing serious physical and mental consequences.
"I felt as if I had been renewed," she added.
After becoming a Christian, Bowman realized that the man who had brought her to church was not the man God had in mind for her. She later met and married her husband Vernon, whom she has been married to for 24 years.
With God, not all of life has been easy, but she has made a choice in her attitude and how she responds to life's bumps.
When her daughters became teenagers her ex-husband fought for custody and took her daughters away one at a time. Two years ago she learned she had a brain tumor in one-third of her brain.
She said that with her brain tumor there were three ways that God could have handled the situation. She could have surgery, be healed by God or He could "take me home," she said.
"I was OK with any of them," Bowman added.
Bowman went through surgery, and has found peace and joy in life, something she said was unforeseen as a child.
"When you give your life over to him He brings you peace and He brings you joy no matter what may come up," she added.