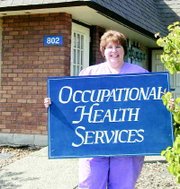 June not only marked the official beginning of the summer season for residents of the Lower Valley, it also marks a changing of the guard at Occupational Health Services.
Occupational Health Services, which was previously owned by Dr. Lloyd Butler, was acquired by Sunnyside Community Hospital on June 1.
Occupational Health Services Community Coordinator Betty Jo Leija said the change in ownership will not lead to vast changes at the office. Instead, she said things will stay relatively the same.
Leija said the most significant change that comes with being under new ownership will be a slight difference in location. Occupational Health Services is currently located at 803 E. Lincoln Ave. In about a month that office is going to move to 802 Miller St. Leija explained that although it sounds like a big move, the office is really just moving to the back of the same building it is currently located in. This means patients will enter the building off of Miller Street, instead of Lincoln. Leija said the space she is moving into was previously used by the hospital as an x-ray lab.
Occupational Health Services is a business that deals with employment health issues, ranging from issuing pre-employment drug tests to scheduling physicals. Leija said she also sees people who have job-related injuries. She explained that typically she will administer a drug test, then make arrangements for the person to see a physician. Leija said Occupational Health Services works with Lincoln Street Family Medicine, formerly Dr. Butler's office, when it comes to meeting their clients' medical needs.
"We work together for those needs," Leija said.
That relationship with Lincoln Street Family Medicine will also not be changing with the office being acquired by the hospital. Susan Babcock, office manager at Lincoln Street Family Medicine, said the office will continue to work with Occupational Health Services.
"We will continue to do occupational injury and occupational health care for those clients who see Occupational Health," Babcock said.
Leija said she is hoping to move the one-woman office to its new Miller Street location in the next three or four weeks.