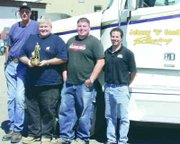 John Dalrymple moved into the lead of the all-stars competition in the National Hot Rod Association (NHRA) after winning a race this past weekend he wasn't even supposed to be competing in.
Dalrymple heads up the Johnny-B-Good racing team, consisting of his son, Bubba, Wayne Linder and crew chief Bob Ohlde. The team competes in NHRA Division 6, which features racers from around the Northwest and Canada.
The race Dalrymple won last week was in Woodburn, Ore. Dalrymple went through six rounds to win the Super Street division, which put him into the lead of the all-stars points standings.
The all-stars series winners from each of the seven NHRA divisions in each class will compete against the previous year's winner. The race will be this fall in Chicago.
At the Woodburn race, Dalrymple wasn't even going to compete, but once he got down there he decided to join in the melee.
"I was real pleased (with winning) since I wasn't even supposed to be in the car," smiled Dalrymple.
Dalrymple will qualify for the all-stars race if he can hold off the competition at the next two races, one coming this weekend at Pacific Raceway in Auburn and then another race in July back in Woodburn.
Dalrymple's son made it to the semifinals at Woodburn last week.
Each division at the Woodburn race had about 90 cars.