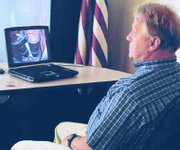 When Sunnyside resident and Daybreak Rotary Club member Randy Schuler first had a friend invite him out for a ride in a speeder car, his thoughts automatically turned to oval tracks and brightly painted NASCAR racers. Instead, Schuler discovered that a speeder car is actually a small railroad car that once was used as a track inspector, but is now used by rail enthusiasts as a unique way to get from point A to point B.
Wednesday morning, Schuler spoke to fellow members of the Sunnyside Daybreak Rotary Club about the small rail cars. He noted that the cars use a 19 horse power engine, which allows them to get up to speeds of around 50 miles per hour, though he added that during a trip they usually travel between 20 and 30 miles per hour.
The speeder cars run on railroad tracks. Schuler said a group of speeder car operators will typically rent a spur line for a weekend, taking their time getting from one end of the line to the other.
"You never want to get on an active track," Schuler warned.
He said getting the small car from one place to another isn't as hard as one might think. Schuler said his speeder car fits perfectly in a horse trailer, which makes for fairly easy transporting. Schuler said when he goes on weekend trips with his speeder car, he simply loads it up, takes it to the spur line, unloads the car, throws his luggage on top of the small rail car, and gets going.
Schuler said speeder cars come in a variety of different shapes and sizes. He added that no two speeder cars are painted the same. The different cars also come with different amenities. Schuler said some cars can change directions on the track with a flip of a switch, which jacks the car up about eight or nine inches and spins it 180 degrees.
Schuler said although a lot of things can be seen from a speeder car are the same things people can see from the road, in a speeder car you can actually take note of what you're seeing.
Schuler also shared pictures of his different trips with Rotary members, showing the speeder cars on treks to places like Pullman and other destinations in the Pacific Northwest.
"It's kind of a unique sport," Schuler said.