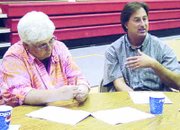 Learning about the inner workings of the Sunnyside Chamber of Commerce is something members of the community were invited to do Wednesday evening. Tom Gaulke, chamber president and executive director of Horizons, explained that the meeting was the second installment in an effort to educate the community about what it means to be a chamber member.
Gaulke said during the group's last meeting they found that many people assumed the chamber was directly connected to the City of Sunnyside. Ruben Carrera, chair of the chamber's membership committee, suggested that the Chamber of Commerce look into the possibility of having a joint meeting with Sunnyside City Council members, letting them know that what they do affects the chamber. Carrera, who also serves as executive director of school and community resources for the Sunnyside School District, said the local school board had held a combined meeting with city council, which opened up a dialog between the groups.
"I think we can initiate a conversation with the city council," Gaulke said.
Gaulke also pointed out that he doesn't think a lot of people realize that there are more than 200 members of the Sunnyside Chamber of Commerce. Chamber member Brezzi Campos agreed with Gaulke, noting that a lot of people don't realize who puts together community events, like Cinco de Mayo.
"They think it just happens," she said.
Gaulke said one way to get around people's perception that they wouldn't fit in with a group like Chamber, is to offer people personal invitations to join.
"A personal invitation to join a group can mean a lot," Gaulke said.
He noted that another way to help gain new members would be to offer some sort of incentive for current chamber members to recruit new people into the group.
"Obviously, if we have 220 members and half of us went out and got a new member, that's some pretty significant growth," Gaulke said.
Gaulke said some other issues the chamber needs to address include finding a regular meeting time for the general membership, setting a meeting format and creating a way for members to network.
"We have to wrestle with these decisions," he said.
One suggestion for helping keep the general membership aware of what the organization is doing came from chamber member Carol Ashby. Ashby suggested the chamber re-institute its newsletter. She said the newsletter doesn't have to be a full color, multi-page publication. Instead, she said a simply one page black-and-white copy would be enough to make chamber members feel they are a part of something.
"I really believe we are missing out on an opportunity to communicate with our members," Ashby said. Gaulke added that the newsletter would be another tangible membership benefit.
The only concern about re-instituting a newsletter is finding the time and funds to put one together and get it mailed out.
Gaulke said one way to address that issue would be by gaining new members, and getting them involved in the organization quickly. He noted that if the chamber were to get a new influx of members, that would mean more volunteers.
Gaulke noted that the idea to create an incentive program for chamber members who recruit new people to the group and the re-institution of the newsletter will be brought up during the next Chamber of Commerce meeting.