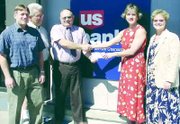 There is going to be more power surging through downtown Sunnyside thanks to a donation that was recently made to the Foundation for the Community of Sunnyside. Wednesday morning, U.S. Bancorp Foundation donated $2,752 to the Sunnyside foundation, which in partnership with the Sunnyside Chamber of Commerce is going to use the funds to upgrade outlets in the downtown corridor.
Grant writer Sue Jetter said eventually the two groups would like to see the number of outlets available downtown double from 16 120-volt and four 60-amp outlets to 32 120-volt and eight 60-amp outlets. She said the outlets are located along Sixth Street between Decatur and Franklin avenues, and are used during community festivals such as Cinco de Mayo.
Jetter said the funds donated by the U.S. Bancorp Foundation will help get phase one of the improvements finished. She explained that each panel, of which there are currently four, will cost approximately $1,000 to upgrade and expand. Jetter said there are also plans to install two new panels on Franklin Avenue. The donations should make it possible to upgrade three of the existing panels.
Marshal Doak, secretary/treasurer of the Foundation for the Community of Sunnyside, said one of the reasons for the upgrade is an underlying concern that the downtown electrical system is being overloaded during community events. He said expanding the electrical system will also provide an opportunity for festivals to expand and grow.
Jetter said as it is now there are some festival vendors who want two outlets, but because of the size of the current system they are only allowed access to one. She said the number of outlets also restricts the number of vendors that can attend an event.
Kathy Corliss with the Sunnyside Chamber of Commerce said there have been instances in the past when an electrician has had to be called to do electrical work in the middle of a festival. She added that there were years when even though vendors only had access to one outlet, back at their booth they would simply plug in a power strip and get all of the outlets they wanted.
Corliss said this year's Cinco de Mayo festival was better, which she attributes to more communication with the vendors, as well as better placement of the booths.
According to Corliss, work on phase one of the electrical expansion is scheduled to be completed by the end of this summer.