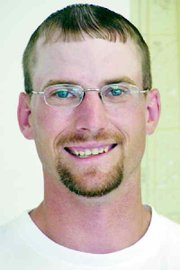 MABTON - Mabton native Mike Roettger is coming home.
Roettger, 27, was hired as the new coach of the Mabton High School girls basketball team, replacing Brett Simpson, who is leaving after five seasons.
"Brett did a heck of a job," said Roettger.
Roettger is no stranger to the hardwood at Mabton High School. Roettger comes from an athletic family. His brother, Rob, who is the Mabton High School track and field coach IS well-known for his basketball skills in Mabton, having scored his 1,000th point his junior season. But Roettger, a 1995 graduate of Mabton High School, is no slouch himself. He is considered one of the best players to ever touch a ball in Mabton, getting a berth to the all-state game his senior year.
Prior to accepting the Mabton girls coaching job, Roettger oversaw the Granger High School junior varsity boys basketball program. The Spartans' junior squad went 33-7 under Roettger the last two years and 47-13 during his three-year tenure.
Roettger learned the art of coaching from one of the best coaches the Yakima Valley has ever seen, Andy Affholter. Roettger played what he terms as four memorable years for the Lower Valley coaching legend.
"I still call him," said Roettger. "I am not afraid to admit I don't know everything."
The part that Roettger remembers about playing for Affholter was that the game was simple.
"Things were basic," said Roettger. "He never really got on us. He was positive."
Roettger said Affholter's emphasis was executing the fundamentals of the sport. One part of playing under Affholter that Roettger fondly remembers is the coach's desire to do his best and have his players leave all they could on the floor.
"Andy had the will to win," said Roettger. "And he was going to instill that in everyone."
Roettger said he is hoping to implement that same philosophy with his Lady Vikings this season.
Even though he is the new coach of the Mabton girls basketball team, Roettger won't be completely in the dark. His older brother is the middle school boys and girls coach, so Roettger is hoping to gain a lot of insight into players coming through the system.
Roettger will also have his wife, Angel, to fall back on. His wife is a teacher at Artz-Fox Elementary School in Mabton. The couple has two children, Naya, 3, and Kaitlyn, 1.
Making the transition from coaching boys basketball to girls hoops won't be that difficult, said Roettger.
"I think it is going to be fun," he said. "Basketball is basketball. It is going to be a fairly smooth transition."
Roettger is very excited about coming back to Mabton and leading the girls basketball program.
"This is home," said Roettger. "The opportunity to come home is just unbelievable."
Roettger hit the road running with the Lady Vikings. The team is busy with its summer season.
"I have got to learn the kids," said Roettger. "I want to get a feel for the kids and I want them to get a feel for me."
So far, Roettger has been impressed with the work ethic of his players.
"There is some talent there," said Roettger. "I am walking into a system that is on the rise."
Roettger has some simple goals for this season. He wants to get enough players out to field three teams. And he also feels the Lady Vikings can make the District tournament this season, it is just a matter of upsetting one of the top three teams in the Greater Columbia 'B' League's northern division-Sunnyside Christian, Riverside Christian or LaSalle. Roettger is also planning to put a lot more emphasis on offense this season. He wants his players to be able to play at a quickened pace to throw others teams off guard.
As far as his coaching philosophy, Roettger said the most important aspect is for students to maintain high academic standards.
"If a kid can't pass a class, they are not going to be out there," said Roettger.
Roettger also wants to imprint on his players the need to play as a unit. Roettger encourages any players who are interested in turning out or want to talk to him more about the team to call him at 830-4647.
Coming back home is something Roettger is happy to be doing.
"No matter what a coach tells you, they always want to come back home," smiled Roettger. ""I want to give back what I got out of the school and the community."