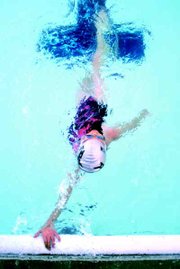 Neither Sunnyside nor Wapato could eke out an advantage over one another in collecting first place points last night. But when it came to piling up points for second and third place finishes, the Sharks came out on top.
The Sunnyside swim club's superior team depth carried the Sharks to a 441-352 victory over the visiting Whales. Thursday's win squared Sunnyside's Mid-Valley Summer Swim League record at 1-1 on the season.
Both clubs picked up 37 first place finishes last night. But in the chase for runner-up points, Sunnyside tallied 120 to Wapato's 104 points. The Sharks dominated when it came to third place finishes, worth two points apiece, outscoring the Whales by a 68-26 margin.
While numerous members of the Sunnyside team found success Thursday evening, no one had a bigger night than Toni Castillo. The 10-year-old won all five individual races in her age division, and swam on both winning girls 10&U relay squads.
Castillo not only swept the girls 10&U races, she humbled all comers. Her closest margin of victory came in the 50-meter breaststroke, when she clipped Wapato's Bethany Imperial by 2.27 seconds-a whopping margin considering the race was only one length of the city pool. Imperial finished second to Castillo in all the other races, as well, losing by 3.53 seconds in the 50-freestyle, 8.41 seconds in the 50-backstroke, 10.01 seconds in the 50-butterfly and 59.35 seconds in the 200-meter individual medley.
Newcomer Brittany Broersma of Sunnyside enjoyed a breakout performance against the Whales, winning the 50-breast and free races in the girls 8&U division. Her teammate, Sydnee Hernandez, already a veteran at the tender age of 8, won the two other girls 8&U races.
12&U girls competitor Kathleen Dolan also helped propel the Sharks to victory. She won three of the five individual races in her age division. Wapato's Janet Durante provided Dolan with some stiff competition, though, taking the 50-butterfly and backstroke races.
Katie Knee was a three-time winner for the Sharks in the girls 14&U individual races. Wapato's Felicia Gonzales and Amanda Juarez each picked up a victory in the two other events.
The Whales dominated the girls 16&U events. Megan Klarich won four of five races, with Wapato teammate Leonie George grabbing the other victory.
Sunnyside's 18&U girls competitors swept to victory in all five races. Rebecca Razey was a two-time winner, with Laura Matson, Emily Kresse and Nicole Garza each grabbing one win.
All told last night, the Sharks won 26 of the 37 girls races. Wapato's boys enjoyed a similar advantage over Sunnyside, winning 26 of 37 events.
The boys who picked up individual race victories for Sunnyside included Tad Tyhuis-a three-time winner in 8&U, Tim Stiteler-a double winner in 10&U, Giovanni Rodriguez-one win in 10&U, Austin Garza-one win in 8&U and Brad Luff-one win in 12&U.
Wapato's big guns in the boys races included Curtis Hata and Adam Barney, who swept the 18&U and 14&U individual events, respectively.
In Thursday's relay events, Sunnyside came out on top in 9 of the 16 races. Two-time relay winners for Sunnyside included Emily Hutchins (girls 10&U), Castillo (girls 10&U), Marisa Broersma (girls 10&U), Samantha Siller (girls 12&U), Alissa Martin (girls 12&U), Dolan (girls 12&U), Megan Schlenker (girls 12&U), Rodriguez (boys 10&U), Tony Garza (boys 10&U), Stiteler (boys 10&U) and Cristian Vargas (boys 10&U). Picking up one relay victory apiece for the Sharks were Alexandra Newhouse (girls 10&U), Priscilla Bermudez (girls 10&U), Knee (girls 14&U), Megan Tyler (girls 14&U), Stephanie Garza (girls 14&U), Beth Stiteler (girls 14&U), Matson (girls 18&U), Razey (girls 18&U), Kresse (girls 18&U), Chelsea Durfey (girls 18&U), Edgar Vargas (boys 12&U), Luff (boys 12&U), Anderson (boys 12&U) and McMinimee (boys 12&U).