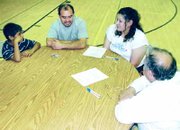 When the school year started last fall there were 566 first grade students filling up elementary school classrooms throughout the district. However, when the class of 2004 walked down the aisle for commencement services just a couple of weeks ago, only 301 students graduated from high school. These are the numbers Sunnyside's Promise is hoping to avoid for the class of 2012, which is why the organization is adopting the more than 400 students who will be moving into the fifth grade next year.
Thursday evening, Sunnyside's Promise held an informational meeting for parents of the students of the class of 2012. The meeting served as a time for committee members to learn what the parents are looking for in regards to ensuring their children graduate from high school, as well as concerns they have for their children.
Ed Radder with Sunnyside's Promise explained that there are issues to be concerned about, sharing statistics that show when compared to state averages local students in grades six, eight, 10 and 12 are above average when it comes to lifetime alcohol consumption and illegal drug use.
"If this is not acceptable to you, then what we're asking is that you get involved," Radder told parents last night.
He added that Sunnyside's Promise wants to find out what parents are doing at home to make a difference. Radder said the organization also wants to talk to parents to learn what they can do together as a group to help ensure success for the students of the class of 2012.
Radder said in adopting the class of 2012, Sunnyside's Promise wants to work with parents to find out what leads to dropouts and low grades. He said the organization also wants to ensure that parent and student needs are being met, noting that Sunnyside's Promise will work to connect families with any services they may need to succeed. He said if a child is at home alone after school, the organization might be able to get the child involved in groups like scouting and Camp Fire.
Radder explained that adopting the class of 2012 also means that Sunnyside's Promise will continue to hold informational meetings for parents over the years between now and graduation.
Following Radder's presentation, members of Sunnyside's Promise spent time talking to parents about concerns they have regarding their child. Lisa Fairbairn, administrative assistant for Sunnyside's Promise, said parents listed a variety of concerns from who their child is hanging out with to the use of alcohol and drugs. One common theme that linked the different conversations, was that all of the parents hope to see their children graduate with their class.