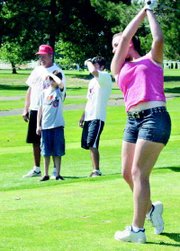 Maybe it was a case of one-upping her grandfather, Bob Rice. Or perhaps, it might have been that the lessons she's been taking from PGA club professional Jeff Bender are quickly paying off. Then again, it's possible that her cousin, Brandon Rice, may be the lucky charm that was responsible for it all.
However you figure it, 17-year-old Jaime Kolb pulled off a rare accomplishment yesterday when she scored a hole-in-one on No. 2 at Sunnyside's Black Rock Creek Golf Course.
The Couer d'Alene High School student, who'll start her senior year this coming fall, just took up the game of golf this past spring. Although she is a resident of Idaho, Kolb is a regular visitor to Sunnyside. Up until a week or so ago, her parents owned and operated a mini-mart in Sunnyside. She also has numerous relatives living here in the Lower Yakima Valley.
It was three of those family members she was golfing with Monday who can attest to the ace she collected on the 155-yard, par-3 second hole at Black Rock Creek. In Kolb's foursome were her grandfather, Bob Rice, and her two cousins, Brandon and Trey Rice.
Kolb pulled out a 5-iron yesterday when she arrived on the second tee block. The club, or more accurately, her swing, worked to perfection as the ball looped straight to the pin and bounded into the cup.
It was the first hole-in-one the second green at Black Rock Creek has ever yielded, since the hole was reconfigured from a par-4 to a par-3 three years ago.
The physically fit, unassuming teen is really just a novice when it comes to playing golf. She didn't take an interest in the sport until this past April. But, as yesterday illustrates, Kolb is a quick learner. She credits part of her game to Bender, the PGA club pro at the Sunnyside course, from whom she has been taking lessons.
"Jaime has a lot of potential," said Bender.
"She has a real strong swing, which makes it a lot of fun to coach," Bender added.
Some of her talent may have rubbed off from her father, Dan Kolb, an avid golfer with whom she teamed this past Sunday in a Father's Day tournament at Black Rock Creek.
"I wish I could have been in the group with her (Monday) to see it," said her father.
Any luck involved with yesterday's feat?
Well ironically, it was the 17-year-old girl's cousin Brandon, two years her senior, who was with their grandfather, Bob, last year when the elder Rice picked up a hole-in-one at Black Rock Creek. Could be that a few more golfers may be trying to get the 19-year-old lucky charm to join their foursome.