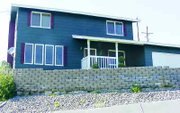 A local man and three others were indicted last week on 91 counts that include wire fraud, commercial interstate carrier fraud, conspiracy, money laundering and aiding and abetting, as well as a criminal forfeiture. The indictment alleges that together the group defrauded Cisco Systems, Inc. out of $6 million worth of computer equipment, as well as other businesses across the country out of more than $2 million.
The four people named in the indictment include Stephen Matthew Griffitt of Sunnyside, as well as Richard Rodriguez, David Lambrix and Melinda Lyn Griffitt. According to the United States Attorney's Office in Yakima, all of the defendants are from the Lower Valley, with the exception of Lambrix.
According to the indictment, Griffitt and the three other defendants used several different schemes to defraud people and companies of everything from money to computer equipment.
The indictment states that in February 2000, Griffitt established several businesses to purchase and sell internet related computer equipment. Then from approximately June 2002 to May 2004, he would contact computer equipment suppliers, telling them he was interested in purchasing equipment. According to the indictment, he would obtain the equipment on the pretense that he was going to pay in full for it or would use fraudulent documents and never pay for the equipment. This scheme also allegedly included finding customers to purchase equipment from him, then accepting payment and never delivering the computer equipment.
According to information from the Internal Revenue Service, Griffitt allegedly used the scheme to defraud two Florida businesses out of approximately $244,537, a California operation out of approximately $37,120, a Utah company and a company out of New York of approximately $641,349, QWest out of approximately $1,025,316, and United Telephone Company of the Northwest out of approximately $388,345.
The indictment states that in 2002 Griffitt looked to Keith Sattler of Sattler and Heslop, a Prosser accounting firm with an office in Sunnyside, to prepare his 2001 income tax return. According to the indictment, "In preparation of that return, Sattler became aware of Griffitt's business dealings and relatively large income." The indictment continues to detail that in the fall of 2002, Griffitt offered Sattler the opportunity to invest in some of his "business schemes," and as a result Sattler invested approximately $80,000. The indictment alleges that when Griffitt didn't pay Sattler back, he said it was he was not good at handling money and asked if Sattler would manage his funds. Griffitt then presented Sattler with a check for $385,000 drawn on a company out of the Netherlands, and asked him to open a bank account with the check that would be used for various business expenses.
According to the IRS, Sattler opened a bank account with the check and upon Griffitt's request began dispersing funds from the account, ultimately totaling approximately $302,757. It wasn't until the funds had been dispersed that the local bank discovered the original check that was used to open the account was a counterfeit.
The indictment states that in August 2003, Melinda Griffitt presented Sattler with a check for $200,000 to help offset the loss, but the check was found to be written on a non-existent account.
The response from a telephone call to Sattler's office this morning was that he is currently on vacation.
The indictment also covers another scheme with which Griffitt was allegedly involved. According to both the indictment and the IRS, from October 2002 to June 2003, Griffitt, Rodriguez and Lambrix devised a plan that allowed them to obtain equipment from Cisco without having to pay for it. The scheme is believed to have included obtaining valid serial numbers from Cisco equipment, calling the company and complaining the equipment wasn't working and that everything the technical center was suggesting to fix the problem wasn't working. Once that had been established, the company would offer to ship out replacement equipment with the assumption that the broken piece of equipment would be returned. However, since there were no broken pieces of equipment, the company would never receive anything in return. According to the indictment, the equipment that would typically be sent out were internet routers or access servers with a value of approximately $100,000 each.
The Daily Sun News staff has received other reports that several local businesses have also had dealings with those involved in the indictment.
According to the U.S. Attorney's Office in Yakima, Griffitt has nearly 85 counts against him with a conviction on the strongest count bringing up to 20 years in jail, a $250,000 fine and three years of supervised release. He and his wife have already been arraigned. Lambrix faces charges of one count of conspiracy and five counts of wire fraud, with the conspiracy count bringing with it a possible five-year jail term and a $250,000 fine, and the other five counts bringing 20 years and $250,000 fines, per count. Rodriquez, who like Lambrix hasn't yet been formally arraigned, is charged with two counts of conspiracy and one count of wire fraud, and Melinda Griffitt is charged with one count of conspiracy.
Attempts to contact the Griffitt's by the DSN news staff were unsuccessful.
A spokesperson for the U.S. Attorney's Office said some of the computer equipment involved in the various dealings is currently in evidence, and property owned by the Griffitt's at 942 Ann Avenue in Sunnyside faces forfeiture.
According to the U.S. Attorney's Office, a trial date of July 26 has been set for Griffitt, who has been released on bail, which was set at $300,000. The remaining defendants have arraignment dates set between the end of June to the beginning of July.