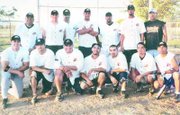 KENNEWICK - Led by the MVP performance of Bobby Garza, Sunnyside's KFC/A&W Brown Sox men's slo-pitch softball team won the title of the June 12-13 Sports Page Invite.
In Sunday's championship tilt, the Brown Sox battered Barnhart Jewelers of Wenatchee, 21-6.
In posting a 6-0 record in tournament play, the Sunnyside club outscored its opponents by a 103 to 45 margin.
"The bats were hot that weekend, and our defense was awesome," said Brown Sox player/manager Bob Sarmiento Sr.
"We played our best softball of the year," he added.
The Brown Sox opened tourney play on Saturday morning, knocking off Jackson's Pounders by an 11-7 score. The Sunnyside athletes followed up the win with a 23-14 thrashing of the Elk Creek Tribe of White Swan. A 5-1 victory over the host Sports Page team closed out Saturday's play for the Sunnyside team.
Playing a single elimination format Sunday, the Brown Sox edged Jackson's Pounders, 15-12, in a quarterfinal contest. The Sunnysiders advanced to the championship game via their 28-5 semifinal victory over Jackson's Softball Club of the Tri-Cities.
Named to the tournament all-star team were the MVP Garza, as well as Brown Sox teammates Kevin McClure, Chris McCallum, Bobby Sarmiento Jr., Lino Gutierrez and Andy Carrizales.