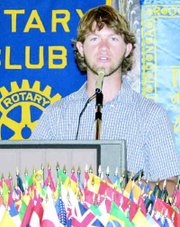 Sunnyside native Kyle Rattray was diagnosed with Wilms Tumor, which is cancer of the kidney. Rattray spent the next several years of his life battling the life threatening cancer and survived.
Rattray, 21, has also survived another endeavor, but these troubled waters left him feeling pretty good about himself.
Rattray was the guest speaker at Monday's Sunnyside Noon Rotary Club meeting, where he talked about his cross country bicycle expedition with two friends to help raise money to fight cancer. Last year's trip by the trio, which spread across nine states and the Canadian province of Ontario, netted $15,000 for cancer research.
"It was an excellent experience," said Rattray.
Last summer, Rattray, who is attending famed MIT in Massachusetts, and his friends decided to get out and see a bit of the world on their bicycles, in the process helping an organization that is very dear to his heart, the American Cancer Society. Rattray told Rotarians that raising money in the big city, Boston, is a bit different than raising money in Sunnyside.
"Raising money isn't that hard here," said Rattray.
He said in Sunnyside everyone knows one another. Rattray said he never had problems raising money for the Relay For Life cancer fund-raiser. Rattray and his mother, Cindy, were instrumental in bringing the national fund-raiser to the Lower Valley. The annual event is held every year in the Lower Valley at Grandview High School.
At MIT, Rattray said he was getting tired of working at nuclear laboratories and research labs, so he wanted to do something that would raise money for the fight against cancer. Rattray said he was inspired to raise money through a cross country adventure from his days of riding bicycles with Dr. Hugh Shiels and Don and the late Dee Parsons, who lost her valiant battle with cancer a couple of years ago.
"It was something I really enjoyed," said Rattray.
Rattray approached Welch, Bailey Nurseries and Wal-Mart about donating to the cross country fund-raiser, which each of the companies gladly did. Rattray said the majority of the money came from people here in the Valley.
On June 10, 2003, Rattray and his friends left the confines on Beacon Street in Boston to begin their cross country journey.
On the first day of their 3,000-mile journey, Rattray and his friends covered 100 miles, enduring six flat tires and a broken bicycle chain. It took the trio 11 hours to go 100 miles. One of the memorable parts of the trip for Rattray and his friends was traveling through a small community in Massachusetts, where they were pulled over by a police officer for speeding on their bicycles.
A big moment in the trip was when the group made their way into New York state.
"It was after crossing into New York that we knew this wasn't going to be too bad," said Rattray.
Rattray said it was around the Albany, New York area where the roads started to become tight, making it difficult to safely maneuver. Rattray said this was also the area where he heard some new, profane words from New York drivers, telling the group to get off the road.
"I heard a lot of phrases I hadn't heard before," smiled Rattray.
Along the way, the group stayed with numerous people who had personally dealt with cancer.
"We met people who were just eager to help," said Rattray.
One of the most memorable encounters, said Rattray, was meeting Polly Letofsky, who was bicycling around the world to raise money for cancer. The trio ran into Letofsky in Ontario, Canada. Letofsky was five years into her journey, preparing to head back home to Denver.
"She had so much energy," said Rattray.
To stay clean during their 50-day endeavor, Rattray said they would go into such places as Burger King and get the wet wipes and go into the bathroom and wipe down.
Rattray's journey with his friends took him to such places as Lake Michigan and the Midwest. It was in the Midwest where Rattray suffered a second degree sunburn after riding with his shirt off in 107 degree weather. Rattray had 150 dime size blisters on his back.
A momentous occasion in the journey came when the trio crossed the Continental Divide. The trip up the 6,000 foot peak took two hours of climbing.
"That was a big day for all of us," said Rattray.
Rattray met up with his mom in Montana, who followed the group as a spotter for the rest of the trip, which ended in Seattle. Rattray and his friends finished their 3,000-mile trip on July 27 in Seattle, having overcame 26 flat tires to raise $15,000 for the American Cancer Society.
"I feel really lucky to have done it," said Rattray. "It gives you perspective."