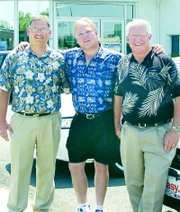 For a little more than a month, Dale Dawson has been back at work behind the desk at Tom Denchel Ford Country in Sunnyside. Dawson recently came back to the company as sales manager after spending the last seven years working for a Ford dealership in Moscow, Idaho.
Dawson said he first came to work for Denchel's in the early 1990s, when the dealership was located at the old gas station on the corner of Sixth Street and Yakima Valley Highway. He said he started as a salesman and worked for Denchel's until 1995, when he decided to pursue another venture. In 1995, Dawson turned his attention to cooking and purchased an Italian restaurant in Yakima, which he operated until 1998.
Dawson said he was born and raised in Sunnyside and when the opportunity was brought forward for him to move back to the Yakima Valley he was more than happy to pursue it.
For Dawson, sales is a field he has always excelled in. When he first started he was selling farm equipment and was ranked as one of the three top salesman in the Northwest for the sale of Case equipment. It was from there that Dan Denchel recruited Dawson to come to work for Denchel's.
This time around, Dawson said Denchel once again played an integral role in his return to the local dealership. He said Denchel saw him at an automobile auction, where he asked if he would be interested in coming back to Sunnyside. Dawson said with Denchel buying into the store, he knew it would be a good time to move back.
Dawson said his new position allows him time to work sales, provide good customer service and a chance to get back into the local community. Dawson explained he is part of Denchel's new philosophy, noting that his is not the only familiar face at the dealership.
Dawson said Denchel's goal with the dealership is to make the car buying experience more personal.
Denchel, who became part owner of the Sunnyside and Prosser dealerships in January, said he is working to re-establish the business. He said when things first started there was a more personal way of doing business, which is something he wants to get back to. One way he is doing this is by bringing back familiar faces.
Denchel said the people he has brought back exemplify the type of customer service skills he is looking to re-establish at the local dealership.
Denchel said his becoming part owner of the two Lower Valley dealerships will also give his brother, Tom Denchel, a chance to grow his third dealership in Hermiston.
Tom said he and his brother are hoping to take the dealership even further, working to provide a high class, high quality experience for customers.