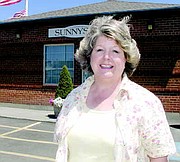 After 25 years in the same downtown Grandview store front, Travel Connection has made the jaunt down the road and set up office in Sunnyside at the old train depot building on Sixth Street.
Travel Connection owner Dottie Cervantes said her landlord needed her space so she began her search for a new office. She first looked in Grandview, but wasn't able to find accommodations that would meet the Airline Reporting Corporation (ARC) guidelines.
"Moving a travel agency is not easy because it's regulated by the ARC," said Cervantes. The ARC has to inspect and approve the location a travel agency moves to, she added.
"It's been known to take six to nine months to move a travel agency," she said.
Cervantes was fortunate to find her new location, which was ready for her to move into. The office had been home to Flying Dutchman Travel before it was closed.
Cervantes said she looked at several properties in Grandview before making the decision to move to Sunnyside. Her new landlord, Bruce Ricks, hadn't removed the special wiring needed to run the computers for the travel agency.
"Moving here was a lot simpler and less costly," said Cervantes.
She said since her new location had once been a travel agency, it had been pre-approved, which cut back on the amount of time it takes to move a travel agency.
For some of Cervantes' outside sales representatives, moving back to Sunnyside is a kind of homecoming. Several of the employees previously worked for the Sunnyside-based Flying Dutchman Travel agency. Cervantes said that she and Debra VanBelle, the owner of Flying Dutchman Travel, who was killed nearly two years ago, were good friends and operated their offices much the same. After VanBelle's death, her family chose to close her Sunnyside travel agency and allowed Cervantes to absorb VanBelle's employees and clients.
Cervantes said that although her office has been located in Grandview, she has had numerous Sunnyside clients, so the move to Sunnyside is kind of like moving into a new, but familiar, neighborhood.
Cervantes started working at Travel Connection for former owner Jean Michels. She then purchased the business from Michels.
Travel Connection is a full-service travel agency that can book trips on planes, trains, ships and buses. They also help clients book business trips and tour packages.
Travel Connection is now located at 102 S. Sixth Street in Sunnyside. The new phone number is 839-6830.