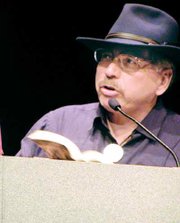 The idea of inclusion and not limiting oneself by what other people expect of you was the inspiring message behind keynote speakers Victor Villasenor and Debbie Wooten, who spoke as part of the third annual Child Welfare Hispanic Conference and the community forum that was held Tuesday evening at the Sunnyside High School auditorium.
Villasenor, who was expected to give his presentation in Spanish, did a quick poll of the audience before deciding to switch to English. Then he told those in attendance that the future of this country lies in getting rid of the concept of only one anything, including language.
"It's exclusive, it's dividing and it causes problems," Villasenor said.
He added that children should begin learning two or three languages when they are young, noting that it opens up the mind.
Villasenor then gave the audience an example in nature of something that is better suited for survival because of its reliance on diversity. He pointed to prairie grass, noting that there are more than 20 different varieties of grass per square yard of prairie grass. One of those varieties is a very short grass that helps the prairie grass survive everything from ice ages to droughts. He noted that the one small grass has a root system that goes 22 feet into the earth, and during times of extreme weather it's that one short grass that nurtures everything else.
"Then when good times come it all flourishes," Villasenor said, adding that the power of the United States is when we realize that we have people from all over the world.
"When we get beyond tolerating our differences....is when we are going to become a nation that is an example for the whole world," Villasenor said.
He then turned to the audience and asked if anyone in the auditorium was a genius. When no one raised their hand, Villasenor explained it's only when a person stops and listens to their inner voice that they can really begin accessing their genius. He then had the audience repeat the phrase "I am a genius, miracle maker." Then he asked the audience to add the word burro, or donkey, to that phrase.
"To be a genius, you also need to a hard worker," he explained. "Now we have to be hard working geniuses."
Villasenor then talked about his life and the challenges he faced in the public school system, a place that at the time wouldn't allow him to speak Spanish. He said it wasn't until he spent some time in Mexico and learned about his culture and the history of his family that he began to be at peace.
Debbie Wooten, who was diagnosed with spina bifida and polio at the age of five months, was the other keynote speaker. She echoed Villasenor's sentiment that accepting who you are is an important part of life.
She said being born during the civil rights movement in the 1950s, she was presented with a lot of "can'ts" in her life. In fact, she said when she was diagnosed with polio her parents were told she would never be able to have children. Wooten said her parents kept that information from her until she had given birth to her third child.
"I learned you can do a lot in this world if you don't know you can't," she said.
Wooten said growing up she attended a special polio school, which often times meant she didn't always know what was going on in the world around her. She explained that it wasn't until she was 7-years-old that she learned she was black. Wooten said she was watching the news with her mother and it was a report on a civil rights demonstration. She said she looked at the people on the television, then at her mother and realized that her mother was black. She said her mother had to point out that she was also black. That was when her mother unloaded a lot of can'ts on her, noting that they couldn't go to certain stores or have certain jobs. Wooten said it was a blow to her because as a polio child, she had already been given a lot of can'ts in her life.
Wooten said over time she has learned that in life you have to stop and adjust your attitude every now and then, learn to deprogram the different things you've been told and start loving yourself for who you are.
She pointed out that right now there is someone out there watching each of us and looking up to us.
"That's a lot of power," she said.