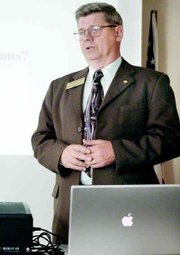 When voters step into the voting booth this fall there is a very good chance that they will be asked to make a decision on the fate of charter schools.
Wednesday morning, Glen Blomgren, founder of the Christa McAuliffe Academy in Yakima and candidate for Yakima County Commissioner, spoke to members of the Sunnyside Daybreak Rotary Club about the concept of charter schools.
Blomgren described charter schools as a "new kind of public school" that is paid for by tax dollars, run by a non-profit organization and is freed from many of the regulations that public schools are typically held to. He added that charter schools do not charge tuition.
According to Blomgren there are currently more than 3,000 charter schools in operation throughout the country. He added that 40 states in the nation, as well as Washington, D.C. have laws that allow for the creation of charter schools.
Blomgren added that the referendum involving charter schools that will likely be on the ballot this fall is a very modest proposal. Blomgren said the referendum would allow for five new charter schools to be created across the state each year for the next three years, then 10 a year for the three years following. He also explained that charter schools have to either be sponsored by the local school district or by the Office of the Superintendent of Public Instruction (OSPI). Blomgren said OSPI will oversee all of the charter schools in the state, closing them if they do not meet the requirements of their charter after five years.
"One thing I like about charter schools is the accountability," Blomgren said.
He said charter schools also help create more high quality public school choices. Blomgren said he feels charter schools are good for students, parents and teachers.