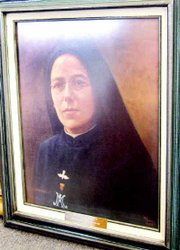 Members of the Catholic Church celebrated the world around yesterday in honor of Pope John Paul's announcement about Mother Julia Navarrete.
Much to the delight of members of the Catholic Church, Pope John Paul announced Tuesday at 11 a.m. that Mother Julia had been declared venerable, which is one of the four steps on the way to achieving sainthood.
"We want the town to know this is something very important in the life of the church," said Sister Lucia Hinojosa of Sunnyside. "All of us are celebrating it (the designation of venerable) in the world."
In recognition of this distinction, the Sunnyside's St. Joseph Catholic Church held a gathering last night in honored of the sacred Mother.
Mother Julia is the foundress of the Missionary Daughters of the Most Pure Virgin Mary. She was born in 1881 and died in 1974. Mother Julia was personally responsible for establishing more than 45 convents in Mexico. Mother Julia established the congregation of the Missionary Daughters of the Most Pure Virgin Mary in Aguascalientes in Central Mexico in 1903 with the assistance of Father Albert Mir. There are currently 481 sisters in the congregation with five of the nuns being located here in Sunnyside. Sunnyside is the West Coast center for the Missionary Daughters of the Most Pure Virgin Mary. The order was founded in Sunnyside in 1963.
Mother Julia has already gained the status of servant from his Holiness.
Sister Hinojosa said Mother Julia is one step away from achieving the divine status of sainthood. Sister Hinojosa said Pope John Paul needs to only validate a miracle being credited to Mother Julia and she will achieve sainthood, at which time the church can erect a status of the foundress. The miracle Mother Julia is being credited with, said Sister Hinojosa, took place in Toluca, Mexico, 12 years ago. A 3-year-old girl drowned and was declared dead for about 30 minutes. Those who knew the girl started praying to Mother Julia, and after the girl was taken to another hospital she was brought back to life.
Last night's celebration in honor of Mother Julia included a talk by Sister Dominque Reyes of the Sunnyside congregation. Sister Reyes talked about living with Mother Julia in Mexico and the passion she had. Sister Reyes talked about the faith, hope and love that drove Mother Julia. Sister Hinojosa also had the honor of working along side Mother Julia when she entered the order in 1960.
"She was very compassionate," said Sister Hinojosa. "She had a vision."
Sister Hinojosa said that in life Mother Julia was very humble and she would have not wanted the honor that was bestowed on her by his Holiness Pope John Paul.
Sister Hinojosa is planning to take a pilgrimage in late July with a group of local residents to Mexico to visit the congregation Mother Julia founded.