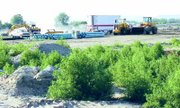 The hillside near I-82 exit 69 is abundant with activity as construction continues on the new Best Western hotel structure located on Quail Lane in Sunnyside. The building permit for the $1.62 million project was issued May 13, but it was only one of the building permits issued by the Sunnyside Building Division in May.
Also approved were the first building permits for the new development on S. 14th Street, according to Mike Storms of the building division. The permits issued for the subdivision list the homes as valued between $76,590 and $92,780. Storms said the houses in the project, which abuts Mabton Sunnyside-Highway, will be single-family, stick built homes.
Building and public works water and sewer connection permits were issued for four of the houses planned for the subdivision, said Storms.
Building permits for new construction were also issued to Courtesy Drywall for a single-family house at 701 S. 8th St. The house, which is valued at $67,982, will be about 1,400 square feet. A new home is planned for 1408 W. Madison Ave. The house is valued at $78,077, according to city records.
Storms added that construction in the DeRuyter subdivision off of South Hill Road is nearing the completion of phase one. He said phase two is expected to begin in the next few months.
A permit was issued May 12 to the Neighborhood Assemblies of God Church for a project valued at an estimated $15,100. Storms said the church is finishing the kitchen area in their new building.
Storms said that there are also a number of additions and remodeling projects going on in Sunnyside.
Ric Whitley, owner of Ric Whitley Insurance located in the old Dairy Queen building on Yakima Valley Highway, is expanding his office building. Whitley said he is expanding the building to give more room to the DeLorie and Johnson law practice, also located in his building. He added that he will also be adding an office rental space in the expansion.
In total about 1,650 square feet will be added to the building. The estimated value is $20,000.
A permit was also issued for a small residential conversion in the 400 block of W. Maple Ave. The estimated value of the project is about $1,200.
Besides the building projects that are currently underway, Storms said there is interest in putting a strip mall and a non-fast food restaurant on Yakima Valley Highway near the Dollar Tree.
In total, 52 permits were issued for Sunnyside projects in May. Without the hotel, the total constructed square footage added equals 11,756. The total square footage on the two-story hotel equals about 38,000.
The total in construction permit fees issued in Sunnyside in May was $2,186,429.