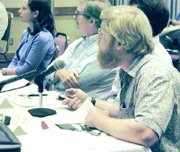 YAKIMA - Driving over Snoqualmie Pass it is easy to be taken in by the beauty of the mountains and the lush green forests that surround the road. But it's those same roads that can end up bisecting migration routes for animals native to the area, making it difficult for them to move from one place to another.
Wednesday afternoon, Paul Wagner with the Washington State Department of Transportation (DOT) talked to members of the Washington State Transportation Commission about the effect roads can have on the environment and different things DOT is doing to help.
He said over the past few years DOT has gained a broader understanding of how roads affect the movement of wildlife, as well as the quality of habitat that is adjacent to the roads.
"The idea of road ecology is getting more attention nationally and internationally," Wagner said.
He explained that DOT has recently started keeping records on the location and number of deer and elk carcasses that are being picked up along the side of the road. He told the state commission that the information is then indexed, giving DOT an idea of problem areas or places animals are continually trying to cross roads.
According to Wagner, DOT is exploring a variety of ways to reduce the number of vehicle and animal collisions on roads across the state. He said one thing they are looking at involves more interactive signage that would use motion detectors to notify motorists when deer or elk are near the roadway.
Wagner said DOT is also working to correct fish barriers across the state, taking culverts built to convey water and rebuilding them in a way that maintains the natural feel of the waterway.
Rebuilding culverts isn't the only way DOT is working to increase animal movement. Wagner said the agency has also been working on the creation of wildlife crossings, places were animals can cross under major roadways without fear of being killed. He noted that there are already quite a few of these structures located along I-90.
Wagner also presented a draft copy of a habitat policy DOT has been working on, which would bring more focus to environmental issues when working on road projects. Wagner explained that it would integrate natural resource information into transportation planning, and promote things such as the use of native plants for roadside landscaping. He said the policy would also incorporate a plant to restore habitats that have already been impacted by roadways.