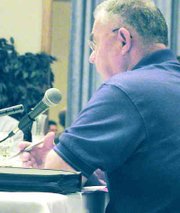 YAKIMA - Lack of funding to help maintain roads in the Yakima Valley was the main concern brought before the Washinton State Transportation Commission during a presentation made by Yakima Valley Conference of Governments Chair Al Hubert.
The commission was in Yakima Wednesday to discuss transporation issues with local officials and transit providers.
Hubert, who also chairs the Yakima County Regional Transportation Policy Board, began his presentation by passing out several handouts to the members of the state m that there are nearly 3,000 miles of roadway that are maintained by cities and towns throughout the county. He added that in comparison there are only 193 miles of regional roadway and 295 miles of state roadway that cut through the Yakima Valley.
Hubert said both state and federal roads combined account for only 18 percent of the total road system in the Yakima Valley, however they seem to receive priority when it comes to funding.
According to Hubert, this means that 82 percent of the entire road system in the Yakima Valley is located and maintained by different cities and towns that are not receiving the funding needed.
"A majority of our roads in Yakima County are left to be maintained by the cities and the county," Hubert said.
During the presentation it was also explained to the state commission that although Yakima County is the second largest county in the state, only 25 percent of the county can be taxed due to areas such as the Yakima Firing Center and closed tribal land.
The need to improve local access roads was also discussed. Hubert explained to the commission that having a well maintained road system is important to the livelihood of many people in the Valley, who need to transport farm fresh produce to markets on the west side of the state, as well as the far easterly side.
Hubert told the commission he felt the only way these issues could be resolved was through a partnership with the state. A partnership that would help bring funding to projects in the Lower Valley.
"We've got to have some help with funding," Hubert said.