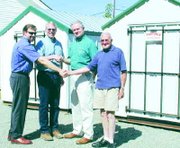 The Sunnyside Museum and Historical Society finally has a little room to breath, thanks to two new metal storage units that have been carefully placed behind the museum, along South Fourth Street.
The storage units were recently donated to the organization by the Sunnyside Daybreak Rotary Club, which partnered with Curfman Steel Company and the City of Sunnyside to ensure that the buildings were properly placed.
"Cooperative projects which enhance the quality of life in and around Sunnyside is a priority goal for the Sunnyside Daybreak Rotary Club," said Jeff Barrom, president of the local club. "We are continually seeking ways to enhance our community."
The two storage units were paid for by the Sunnyside Daybreak Rotary Club and Curfman Steel, which also helped set the units. The Sunnyside Public Works Department provided fill and gravel at the site behind the museum, to ensure that there was a level platform on which to set the units.