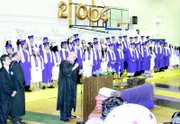 MABTON - A new phenomenon has been rippling through the Mabton School District for the past few years, turning students' attention to the possiblity that college is something for everyone.
Four years ago, with the receipt of three different grants, the school district began focusing on the importance of post-secondary education and what it takes to gets students accepted into college. In that amount of time, the district has remolded its curriculum offerings, encouraged teachers, staff and students to talk about college and has done everything possible to ensure that students have what they need to get into a four-year university.
The fruits of those labors have been paying off for the small Lower Valley school district. This year, 43 of the district's 45 graduates will be starting their post-secondary education in the fall. According to Mabton Supt. Kevin Chase, 53 percent of the graduates have been accepted to a four-year college, 32 percent have been accepted to community colleges and 11 percent have been accepted to a trade or technical school. These are numbers that Chase is proud of.
"The real difference is we began talking to the kids, telling them that college is for everyone, college is for you," Chase said.
Despite Mabton's impressive graduation statistics, the numbers aren't something that changed overnight. Chase said the transition has been on its way since the district received several grants, including a Gates grant, a Gear Up grant and a Gates Achieves grant.
"These are three grants that focus on the same thing," Chase said, adding that they all work on helping prepare students for college.
Chase explained that the Gates grant pushed the district to redesign how the district delivered education, ensuring that all students knew that they could get into college. He said the grant also paid for professional development opportunities for the staff.
According to Chase, the Gear Up grant helps create early awareness of college opportunities for students, noting that students enter the Gear Up program in the sixth grade. He said Gear Up students are given the opportunity to go on college visits and attend college fairs.
The Gates Achievers grant is something only 16 high schools in the state were awarded. Chase explained that the grant provides each of the 16 selected high schools 500 full ride scholarships to be distributed over the next 10 years to high school juniors.
"It's the confluence of these things," Chase said.
However, it isn't just the attitude that has changed in the district. Instead, the whole system in the school district has changed. For example, Chase said for the past several years the Mabton School District has required students to complete a portfolio in order to graduate. A section of that portfolio requires students to do everything they would have to do in order to get accepted to college, including filling out college applications.
According to Chase, the district has also done what it can to ensure that its graduation requirements are in line with what four-year universities require for college admission.
Chase said for the past two or three years the high school has also began offering students advanced placement courses, meaning that students can help better prepare themselves for rigorous college course work.
Although, making changes in the curriculum is only one part of the equation in the Mabton School District. Chase said another key factor has just been opening up and talking to students about college and what it takes to make it. This has involved planning visits to different colleges throughout the state, as well as bringing college representatives to Mabton for college fairs.
Chase said one important element that also had to be addressed was ensuring that parents were also on board with the district's goals.
"When we take college visits, we invite parents to come along," Chase said, adding that for many parents it is their first time on a college campus.
He said the district also holds informational evenings where parents are invited to the schools to learn why college is important and what it takes for students to be accepted.
Chase said besides college visitations, students are also given the opportunity to observe different employment choices that colleges make available. He explained that the district is a member of the Greater Yakima Chamber of Commerce, and through that organization 247 students took part in job shadows last year.
According to Chase, the main difference in the school district is that expectations have begun to shift and change. More and more students are thinking about college earlier and earlier and therefore getting themselves ready. Chase added that students now realize that if they have a decent SAT score, have taken some advanced placement classes and have shown that they can challenge themselves, chances are they will get accepted somewhere.
Chase said now students in the district are asking administrators when things like the PSAT tests are being administered.
"They know all the check marks and all the boxes [for college admission]," Chase said.