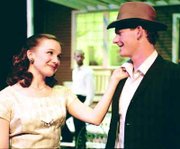 SIOUX CENTER, IOWA - A former Sunnyside Christian High School student, Laura Berkompas, has been honored for her work in the theater while attending Dordt College.
Berkompas is one of four Dordt students who recently received notification she was given a commendation from the National Selection Team of the Kennedy Center American College Theatre Festival for her work on the university's fall production of "All My Sons."
Nationwide, only 53 college productions received this recognition for special achievement in production for the 2003-04 academic year.
Berkompas was cited for her work as lighting technician.
"All My Sons" was just the second show in Dordt College's history to be invited to perform at the Region 5 American College Theatre Festival, which is made up of undergraduate and graduate theatre programs in Colorado, Iowa, Kansas, Minnesota, Missouri, Nebraska, North Dakota and South Dakota.
"I think that the commendation to all of us reflects the positive assessment of what we do as a department in a small college," said the director of the Dordt College play, Jeri Schelhaas.
Also honored from Dordt College were Schelhaas for program development and production achievement, Paul Olsen for his performance as George Deever and Rachel Persenaire for her performance as Ann Deever.