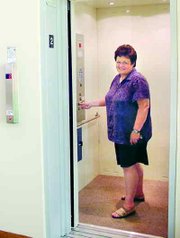 In mid-May, all of the church members of the Sunnyside Church of God were able to go downstairs at the same time. It was the first time some long-time members of the church had seen the church's fellowship hall in the basement in three years. They were able to attend the church's graduation ceremony for high school seniors held in the basement by way of the shiny new elevator situated on the east side of the church's narthex.
The Sunnyside Church of God on North Avenue has a new claim; it is the first church in Sunnyside to have an elevator.
The church's new elevator is one of only three operational elevators in town.
"It's been a year and a half since we started the project," said Pastor Karen Helsel.
The small congregation is taking on the bulk of the expense of the elevator, the total of which is about $45,000. She said the church received about $10,000 in grants, bringing the church's responsibility down to about $35,000. Helsel said that the church has received several gifts from around the United States to help fund the project.
The church also received a donation from the company it bought the elevator from, saving the congregation about $15,000. The project was originally valued at $60,000. The Sunnyside congregation also assisted with the project, completing the trim and painting the elevator shaft.
"A lot of the congregation has sacrificed financially and continue to give pledges to make this possible," Helsel added.
Until the elevator was completed, those who couldn't navigate the steps to the basement of the church would sit in one of the upstairs classrooms during potlucks. Now the entire congregation can enjoy meals together in the fellowship hall.
"Probably half of our congregation is over 50, so we're planning many activities this summer in the basement using the kitchen," said Helsel. "We've had a lot of people already who have arthritis and can't go up and down the stairs, who are able to use (the elevator)."
Helsel said there are plans to allow the junior members of the church to also use the elevator. She said Sunday school teachers will be giving rides to the children, so they will have a chance to use the new elevator.
The Sunnyside Church of God will be holding a celebration service this Sunday, June 27, at 4 p.m. to celebrate the completion of the elevator project. She said several Church of God congregations will be joining the Sunnyside church for the service, which is open to the public.