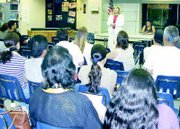 MABTON - The two Mabton School District Superintendent final candidates spent Wednesday and Thursday in the community answering a litany of questions, touring the facilities and meeting with the public.
The candidates, Sandra Pasiero Davis and Luz Juarez Stump, each spent a day in Mabton this week getting a feel for the community, its needs and the role they would like to fill in it.
Davis, who currently is the director of the migrant education regional office at Educational Service District (ESD) 105 in Yakima, listed in her objectives for obtaining the position that she wants to provide leadership in the Mabton School District so the teachers and administrators are supported and students are successful. She said it is also important that parents are partners in their children's education.
Davis has been the director of the migrant education regional office since 1989. She coordinates and assists 32 school districts in south central Washington develop, implement, monitor and evaluate effective programs for Title I/LAP, migrant and bilingual students of all ages.
Prior to being hired by the ESD, Davis served for 10 years as the bilingual/ESL coordinator for the Los Angeles Unified School District. She authored a Spanish language curriculum and has hired and supervised bilingual aides.
She has also served as a reading specialist at Junipero Serra High School in Compton, Calif.
Davis has a Master of Arts from Loyola Marymount University in California and a Bachelor of Arts from Barry University in Florida. She has also completed some of her doctoral studies at the University of California in Los Angeles.
She also holds her initial administrator superintendent and principal credentials from Washington State.
Stump is the principal of Martin Luther King Jr. Elementary School in Yakima. A native of Wapato, she worked in the Mattawa, Zillah, Kirkland, Wapato and Toppenish school districts before taking the principal position at the Yakima school four years ago.
She said it is her desire to work in the Lower Valley, and the good things she has heard about Mabton schools has drawn her to the Mabton School District.
The mother of five, Stump has an 18-year-old special needs son and a daughter who will be a senior at Eisenhower High School this fall. She also has an eighth grader, a fourth grader and a three-year-old.
She has recently been accepted to Washington State University to pursue her superintendent credentials, which will take her away from the schools one Friday a month.
A former high school basketball coach, Stump said she is dedicated to being at the both school and community oriented events.
She also has plans to involve the parents and encourage them to participate in their children's education.
The decision on who will be the next Mabton School District superintendent will be made Friday, July 2.