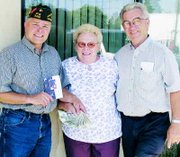 Last weekend, when Elmer Schilperoort was named the winner of the Pioneer Picnic split-the-pot raffle to benefit the community fireworks display, it was assumed that the $320 that had been collected would be split between Schilperoort and the local groups putting together the display.
Instead, Schilperoort generously opted to donate his winnings back to the Pioneer Association and ultimately to the fireworks display.
"He gave his $160 right back," said Beverly Ice, secretary/treasurer of the Pioneer Association.
Ice explained that the split-the-pot raffle was part of the annual Pioneer Picnic, which was held in Central Park.
This year the Sunnyside community fireworks display is being organized by the local Lions Club, the Sunnyside Chamber of Commerce and the local post of the Veterans of Foreign Wars.
Elena Olmstead/Daily Sun News
VFW Memorial Chairman Greg Schlieve (L) accepts $320 from Pioneer Association Secretary/Treasurer Beverly Ice (C) and President Bill Flower. The funds will go towards the Sunnyside community fireworks display. The money were raised by the Pioneer Association through a split-the-pot raffle.