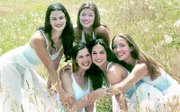 When Tara Mosier was three years old she took her first dance class, starting with ballet and later expanding to jazz and gymnastics. Now, 24 years later Mosier has studied not only ballet and jazz, but also tap, modern, hip-hop, funk, flamenco and salsa dancing.
Mosier, who spent the first few years of her life in Sunnyside, said dancing has always been something she has been involved in.
"I couldn't see myself doing anything else," she said.
And Sunday, she will be bring her talents to a local stage. Mosier will be performing as part of Lineage Dance, a group that takes time in the summer to tour the country and raise money for various local charities. In Yakima, money raised through the performance will go to benefit the Yakima Valley Partners for Habitat for Humanity.
Mosier, who is a graduate of Cornish College of the Arts in Seattle, is currently living in California and dances with Benita Bike's DanceArt Company in Los Angeles. Mosier said the company, which she has been with since 2001, specializes in a very modern style of dance with a ballet base. She explained that Bike has a background in East Coast style modern dance that makes it almost classical.
For Mosier, dancing with a company was not what she first envisioned herself doing when she moved to California. Instead, she said she planned on being involved in the more commercial side of dance, such as music videos.
However, she said she soon found that style of dance to be unfulfilling, noting that being asked to repeat the same movement over and over again in order to get different camera angles was not what she had pictured for herself.
Mosier said she soon found herself getting more and more involved with theater dance, finding that it was more of an art form.
"It's more than just doing the steps," she said.
It was her interest in theater dance that led her to Benita Bike's, which is where she met Hilary Thomas, the director of Lineage Dance. Mosier said Thomas had started Lineage Dance about two years before she joined Benita Bike's.
Mosier explained that Lineage was originally created as a way to raise money for various organizations, as well as a way to bring modern dance to places across the country that might not otherwise be exposed to the art form.
When it came time to find locations to tour, Mosier said the dancers involved decided to make it a homecoming type of event. She said the dancers all had family throughout the country, so they decided to try to stop in each of their hometowns and to do it within the span of a month.
Mosier said this year Lineage Dance is scheduled for 13 performances, starting in Morgan Hill, Calif. and then coming to Yakima. Other stops on the tour include Denver, Boston and Washington, D.C.
As for how they decide which charities to raise money for in each community, Mosier said they leave that up to people in the community they are visiting. For example, she said last year the group was able to raise $15,000 for the Boston Deaconess Hospital for AIDS research.
Lineage Dance will be performing Sunday, June 27, at 7 p.m. at the Englewood Christian Church, located on the corner of Englewood and 44th avenues in Yakima.
Mosier said the performance includes a lot of high energy dance and excitement.
"There is a lot of emotion and story telling in the dancing," Mosier said.