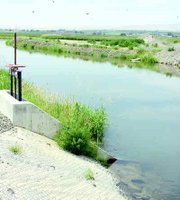 Although the Bureau of Reclamation announced that rationing will be a part of this year's irrigation season, the situation isn't as extreme as it has been in years past.
Don Schramm, assistant manager of operations for the Sunnyside Valley Irrigation District, said before the season started it was thought that there would be a 70 percent ration for the season. Instead, ration level is currently sitting at 82 percent. According to Schramm, this means that those with junior water rights, or those with proratable water rights, will receive 82 percent of their entitlement. He said those with senior water rates, or non-proratable water rights, will still receive 100 percent of their entitlement.
"We've been fortunate in that it keeps improving," Schramm said of the water forecast.
Schramm said in the Sunnyside Valley Irrigation District roughly two-thirds of the individuals in the district have non-proratable rights with only one-third of their users having junior water rights, and therefore being affected by the rationing. Schramm said there are other districts in the area that will feel a larger effect due to the rationing. He explained that districts like the Rosa Irrigation District are fully made up of proratable water rights and will therefore only receive 82 percent of all their water.
Schramm said even though the district doesn't like being rationed, with the rationing rate at 82 percent it should be able to get through the season with just a little extra work.
According to Schramm, at the same time last year there was no rationing in place, with only slight rationing coming later in the season.
However, compared to the last drought in 2001, this year's rationing levels are not too extreme. Schramm said in 2001 the Bureau of Reclamation set the rationing level at 37 percent.
"So this is much better than that," Schramm said.
Schramm said there are several factors at play in the ever improving water forecast. He said this year there was more precipitation in the mountains, which led to more run off. He added that the spring rain storms experienced by the Valley also helped ease the pressure, noting that they began using reservoirs about a month later than expected.