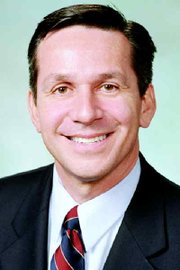 Working as a member of the private sector, gubernatorial candidate Dino Rossi feels he has a different perspective to bring to the office. Rossi, who is a commercial real estate investment banker and has served in the Washington state senate, is the leading Republican candidate for Washington state governor.
Rossi said he feels one of his top priorities, if elected, will include looking at ways to improve the state's economy and job market.
"People are broke and out of work," Rossi said, noting that it is clear that the situation is not getting any better.
Rossi said he feels one key to helping solve this issue lies in helping small businesses in the state grow and prosper.
Rossi said one of his goals, if elected, is to show people that it is possible to be both fiscally conservative and civically responsible.
Rossi said he is also concerned about the state of the region's health care situation. He noted that malpractice insurance is out of control and is driving highly qualified physicians out of the state.
"We have to keep our doctors here," Rossi said. He added that it's nice to have health insurance, but it's not much value if there are no doctors to go to. "It's an issue, especially in rural areas," Rossi said.
Rossi, who was chairman of the budget writing Ways and Means Committee, said he was proud of his work this last year, which included balancing the budget without implementing new taxes.
Working with the Ways and Means Committee, Rossi also had a chance to include funds in the budget for certain projects, including the Black Rock Reservoir project.
Rossi said he feels water storage is an important issue on this side of the state, noting that money was set aside in the budget to support the storage project.
"No matter what happens, we need more storage in this basin," Rossi said. "Water is going to be key."
When it comes to the Washington Assessment of Student Learning tests that are on their way to becoming a graduation requirement for students throughout the state, Rossi said he feels it's important to keep standards high throughout the school system. However, he added that it is something that needs to continually be re-examined.
"We need to look at if we're measuring, what we want to be measuring," Rossi said in regards to the WASL.
Rossi, who is the youngest of nine children and was raised on a school teacher's salary, said he worked hard to get pay raises for first through seventh year teachers during the budget session.
"The lowest 32 percent of teachers get a raise because of me," Rossi said. He noted that first through seventh year teachers should now make no less that $30,000 a year.
He said he also managed to include a $100 increase in per student spending for schools in Washington.
Rossi also noted that if elected he plans to be "governor of the whole state." He added that last Friday afternoon marked his 13th visit to the Yakima Valley.