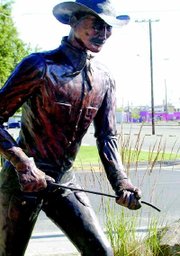 As far as Bill Flower remembers, the statue of Ren Ferrell was in perfect condition for the Sunnyside Pioneer Association picnic two Saturdays ago.
But this past Saturday he received a call that the $45,000 statue had been vandalized. The bronze "S" at the end of Ferrell's branding iron was snapped off, leaving the pole held by Ferrell hooked on the end.
"I was shocked that it was damaged," said Flower.
He said that since the statue was uncovered nearly five years ago people have respected the artwork. He said in the winter months people put clothes on Ferrell.
"I think everybody feels it's a great addition to the community," he added.
He added that he believes the part of the statue that was broken off will be returned.
"A parent will find it and turn it in or someone will call," said Flower. "I really think this is just some practical joke that got out of hand."
"It was the stem of the branding iron that had the brand. It looks like they just kept bending it until it broke off."
Flower, a member of the Foundation for the Community of Sunnyside Bronze Society, said the group intends to repair the sculpture, which is of cattle barren Ben Snipes' foreman, Ferrell.
Flower said he is unsure of how much it will cost to repair the statue, but they should have a better idea in about 10 days.
He added that the damage to the Ren Ferrell statue will not affect future bronzes being displayed in the community.