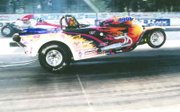 KENT - Wayne Linder Jr. took runner-up honors during a National Hot Rod Association (NHRA) division points race at Pacific Raceways in Kent the weekend of June 18.
Linder endured five rounds in the super gas division before losing in the championship pairing because of mechanical problems.
"I was running really strong," said Linder. "I had a lot of tight races."
Linder's tightest race came in the fourth round, where he won by what equated to about three inches of space.
In the championship round, Linder met up with a familiar foe in Ed Destaute out of Division 7, who was the 2001 NHRA world champion. Linder had beaten Destaute before during a race in Las Vegas in 2002.
This time around wasn't meant to be for Linder as transmission problems brought his night to an end. Linder was able to bring his car to the line for the championship race, but experienced problems with the transmission. When he went to take off at the start of the race his car backed out of the beams, which gave Destaute the win.
Linder is part of the Johnny "B" Good racing team operated by John Dalrymple. The rest of the team consists of Bubba Dalrymple and crew chief Bob Ohlde.
The Johnny "B" Good racing team will be in Woodburn, Ore. the weekend of July 9 for the last all-star points race of the season. Linder and John Dalrymple, super street division, are vying for top honors in the all-star race to earn a trip to Chicago.