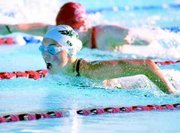 Katie Knee loves swimming and she is planning to venture into new waters this summer by competing at the AAU Junior Olympic games.
Knee, 14, who is a member of the Sunnyside Sharks swim team, is looking for financial assistance to go to the Junior Olympic games Aug. 2-7 in Des Moines, Iowa.
This is the eighth year that Knee, who will be a sophomore at Sunnyside High School this fall, has been on the local swim team.
"It is a lot of fun," smiled Knee.
Knee jokingly said at first her parents made her join the swim team, but once she was there it became something she loved doing.
"I just wanted to come back every year," said Knee. "It makes me relaxed. Being in the water makes me feel at home. It gives me time to think about everything."
Knee said she also enjoys interacting with everyone involved with the swim team.
"It is not just swimming," said Knee. "It is like a big social event."
Knee had heard about the AAU Junior Olympic games for some time and did more research on the event through the Internet. The only event Knee didn't have a qualifying time for the Junior Olympics was the 1,500 meter freestyle.
"I have never swam it," said Knee.
Knee said one of the reasons why she wants to go to the Junior Olympic games is to compete against some of the best swimmers in the country while being able to experience something new.
"I thought this would be fun to go to," said Knee. "It is going to be really scary, but I want to give it a try. I am not quite sure how it is going to go."
Knee also said she is looking forward to meeting a variety of new people while competing at the Junior Olympics.
Participants in the swimming portion of the Junior Olympics, one of the many events going on in Des Moines, are limited to competing in three events per day. Knee isn't quite sure which events she wants to do, but definitely wants to compete in the butterfly and backstroke, two of her strongest races. Knee also performs well in the 200 individual medley. Knee has medals in the top three from the local championships in each of the events.
To compete at the Junior Olympic games Knee needs $1,200, which includes the cost of meals, transportation, accommodations and participant fees. Knee is asking that 20 individual sponsors donate either $50 or $100 to help her reach her goal financially of going to Des Moines. Knee said she is willing to do odd jobs for people to help raise the money. Also upon returning from Des Moines, Knee plans to make a presentation to each of her sponsors on what she did.
Knee will be leaving for Des Moines directly after the Mid-Valley League swim championship meet on July 31-Aug. 1 in Toppenish.
"I hope I can sleep on the plane," joked Knee.
Knee will be going with her mother, Carolyn, and grandmother, Betty Galbraith, to the Junior Olympics. She is still working out an itinerary of places she wants to go.
Walking away with a valuable life experience is what Knee hopes to get out of her trip.
"It is going to be a cool experience," said Knee. "I get to swim and meet new people."
Anyone who wants to assist Knee with her venture can call 837-5339 or mail donations to 106 Grandview Avenue in Sunnyside.
. Mike Kantman can be contacted at (509) 837-4500, or email him at mkantman@eaglenewspapers.com
Rod Smith/Daily Sun News
Katie Knee swims the butterfly race last night against Prosser. The butterfly is one of the events Knee plans to take part in at the Junior Olympic games in Des Moines, Iowa in August. Knee is seeking financial donations to help with expenses for the trip.