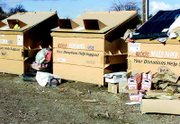 Each weekend as the days get longer and the weather gets a little warmer, the urge to get outside and begin spring clean-up grows stronger.
But this year, when you begin your annual cleaning out of flower beds, garages and spare rooms, don't forget to recycle, urge officials at the Yakima County Solid Waste Division.
"We are urging county residents to reuse and recycle as much of their refuse as possible in celebration of Earth Day, April 22, said Loretta Zammarchi of the Solid Waste Division.
We are encouraging residents to adopt recycling as a year-round family project, she said
Yakima County is making big strides towards increased recycling efforts, Zammarchi said.
"Yakima County residents boast a 30 percent recycling rate and the trend toward recycling seems to be growing," she explained.
The distribution of recycling bins throughout the Lower Valley has greatly added to the trend, she said. The county Solid Waste Division, in conjunction with Yakima Waste Services, has bins for plastics, papers and glass located at strategic places throughout the Sunnyside area.
And even if the bins are stuffed after a weekend of cleaning, creating something of a mess around the bins, Zammarchi is pleased to see people separating their recyclable items. She said simple projects such as recycling leaves and lawn clippings, rather than disposing the vegetation in the garbage cans, can also help the environment. She said her office annually hosts composting and recycling workshops which will give residents the necessary tips for the disposal of recyclable items.
She said simple projects such as composting yard wastes, in addition to recycling family plastics, papers and glass, will go a long way toward helping to make the environment cleaner and safer for generations to come. April 22 is annually recognized as Earth Day and will be celebrated throughout Yakima County, Zammarchi said.
"We have a full calendar of activities scheduled through the month of April," she said.
She said the Earth Day type activities include such things as riding bicycles or walking to work several days a week, attending good bug seminars and starting compost bins in the back yard. Other home activities may include planting a tree, she suggested.
Community activities planned in April will be held at the Yakima Arboretum, Sarge Hubbard Park and in Lower Valley schools, she said.
This week her office will be working with AmeriCorps volunteers to train them to be trainers in recycling, she explained.
County Solid Waste Division representatives will be in Sunnyside March 5 to host a workshop in recycling paper with the volunteers who plan a community Earth Day project, Zammarchi said.
"It's all part of our countdown to Earth Day," she explained.
"We will also be working with Lower Valley schools to create Earth Day messages on brown paper grocery bags," she added.
Students at Pioneer, Washington and Outlook Elementary schools will aid in the Earth Day message project, Zammarchi said.
"While we won't begin our count-down to Earth Day until April 1, we know county residents are eager to get started with spring clean-up," she said.
She urged residents to dispose of household hazardous wastes at the local transfer station on Snipes Mountain and at the Cheyne Road landfill near Zillah. Hazardous waste items include such things as car batteries, leftover paint and antifreeze. Other items such as tires must be taken to the Terrace Heights Landfill in Yakima, she said.
Zammarchi said April 14 is the date for the annual Arbor Day family festivities to be held at the Yakima Arboretum. April 22 is the date for the annual Yakima Greenway Eagle Earth Day to be held at Sarge Hubbard Park in Yakima.