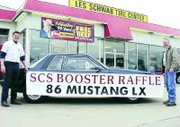 A 1986 midnight blue Ford Mustang LX is the top item on the Sunnyside Christian Booster Club's 2004 list of raffle prizes, according to Chris Gardner, booster club president
Tickets for the car, donated by an anonymous donor, will be raffled off during the club's annual auction, to be held Friday, May 21, Gardner announced last Thursday.
The auction, which benefits Sunnyside Christian School education and extracurricular programs, will be held at the Yakima Chief Hop Storage building off Midvale Road.
Booster club members are now selling raffle tickets at the cost of $5 as a lead-up to the auction, Gardner said.
The low miles, one-owner car is now on display at the Sunnyside Les Schwab Tire store. "It will there all this week before being moved to Banner Bank and the Bleyhl Store later this month," said Gardner.
He said the raffle also includes, as second and third prizes, a personal computer and a digital camera.
Diana Puterbaugh, who is helping to promote the May fund-raiser, said tickets to the dinner auction will be available during the coming weeks.
The auction, which includes a plethora of goods and services, will also feature a pre-function sit-down dinner, served by the high school junior class. Tickets for the raffle, auction and for the dinner are available by calling Sunnyside Christian High School at 837-8995.