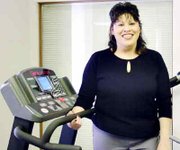 When Cyndi Correa was a little girl she would visit the doctor's office, where her mother was a nurse. Rather than being fascinated with stethoscopes, thermometers and blood pressure cuffs, Correa would take scraps of paper office workers would give her, attach them to a clipboard and pretend to fill them out.
"I used to love to fill out the forms," said Correa.
Apparently, Correa still enjoys processing forms.
After graduating from high school, Correa began working for Dr. Allen as an office manager. A year ago she became office manager for Complete Therapy Services, located at 716 E. Edison Avenue.
"My main job is billing," she said. "I do all the medical billing for physical therapy and occupational therapy."
She is also in charge of the main reception area at the busy clinic.
The office treats patients with sports related injuries, stroke patients and those needing other rehabilitative services.
Correa tried her hand at nursing and was training to be a certified nurses assistant, but didn't complete the training. She decided what she really wanted to do was greet patients visiting the medical clinics.
Besides working for Complete Therapy Services, Correa has her own company, AMC Medical Billing, which is named for her three daughters, Alyssa, Marissa and Clarissa.
"They get a kick out of that," she said.
"I do billing out of my home for medical interpreters," said Correa. "There is a great need. We don't have billing companies around here."
A people person, there are very few who walk through the physical therapy office door that she doesn't know by name. She said between working for Dr. Allen and now the therapists at Complete Therapy Services, she has had the opportunity to meet numerous people in the community.
"It's nice to work with a lot of members of the community," she said. "I try to go the extra mile."
She said when a new patient comes to the office she contacts the patient's insurance company to check on coverage and explains a patient's insurance plan to them if they have questions.
"I try my hardest to accommodate patients by answering any insurance questions," she said.
The 1992 graduate of Sunnyside High School moved to the Lower Valley in 1989 from Pharr, Texas. She is married to Moe Correa. When not working she is a basketball mom to her daughters and is active in activities with her church.