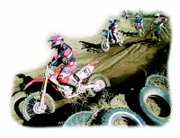 MABTON - Sounds of tightly wound, high pitched engines, as well as the gutteral roar from the bigger, faster machines, filled the Mabton countryside this past Sunday morning. Motocross racers-young and old alike-turned out by the droves to test man and machine against one another.
Yep, it was time once again for Mabton Dunes Motocross racing. The popular event has become a pre-spring ritual for many of the 100 or so racers who showed up Sunday. The motocross racers take on not only one another, but the once popular Mabton track as well.
Back in the 1970s and early '80s, the Mabton motocross track regularly featured some of the top riders from throughout Central Washington and other parts of the Pacific Northwest. Now, the track...described by most riders as a bit on the rough, unkept side...only gets used once a year.
"It's a fun, nostalgic thing we do," said Sunnyside's Pat Jaquish.
Jaquish has hosted the Mabton Dunes Motocross event for the past seven years. Informally, he puts out the word each year when the races will be held. And like lemmings making their way to the sea, they come...from beginners who haven't yet worked up enough nerve to race the regular motocross circuit to the wiley veterans who more than two decades ago called the Mabton track their home course.
Jaquish, who operates under the guise of Squisher Racing, is the man who stages the 15 or so motocross races in the Tri-Cities each year. Those events are much more organized, a regular motocross circuit series of races, with points standings kept and trophies and prizes to be won.
Mabton Dunes Motocross racing is a bit more casual.
"The whole thing is for fun," Jaquish says. "A lot of the people who show up are just beginners, but we get some old-timers there, too.
"This past Sunday was great," he continued. "The sun was shining, the weather was good.
"And no one got seriously hurt, no ambulance calls, just a few spills.
"Good, old-fashioned motocross racing, that's what it's about."