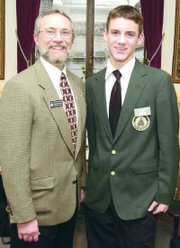 OLYMPIA - Sunnyside High School junior Jacob Barr recently served as a page in the House of Representatives in Olympia.
Barr, the son of Ruth and Chuck Barr of Sunnyside, was sponsored by Rep. Dan Newhouse, R-Sunnyside.
While serving as a legislative page, Barr was involved in such activities as presenting the flags during opening ceremonies, distributing amendments and delivering messages and documents to the legislators during committee meetings and to the House chambers during floor sessions.
Barr spent two hours each day in a classroom setting learning about the legislative process. In addition, he had the opportunity to spend another hour, in a quiet environment, working on school assignments from home. He spent the rest of his time on legislative duties.
To become a page, students must have a legislative sponsor and be at least 14 years of age, but not have reached his or her 17th birthday. Additionally, pages are required to hold a grade-point average of C+ or better.
Since 1891, young people from across the state have traveled to Olympia to serve as pages for the Washington State House of Representatives.