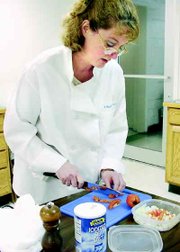 Having a personal chef is not just for the rich or elite any more. It is a service that can help alleviate the stress of eating healthy while maintaining a busy lifestyle.
According to Laurie Carter, a personal chef and member of the United States Personal Chef Association, many who look to her for personal chef services are living busy lifestyles, have special diets or really don't enjoy cooking.
"It's a service that's applicable to soccer moms and affluent seniors," she said. "It gives families more time together."
For about a year Carter has been a personal chef, providing meals to people in the Lower Valley.
She finds being a personal chef is a way to expand her love of cooking while remaining in the Lower Valley.
"The mise en place or prep work is really relaxing," she said.
Carter learned later in life that she loves to cook. After getting divorced she realized she had never cooked while married.
Having to prepare meals for herself, Carter learned the love of cooking as she tried new recipes and mastered culinary skills.
"I was always afraid of the big knife," said Carter of the chef's knife. "A lot of people have a chef's knife and they're afraid to use it."
As Carter's cooking skills and love for the kitchen grew she decided she wanted to pursue culinary classes. She was actually looking at on-line classes and Western Culinary Institute in Portland, when she saw an advertisement for the United States Personal Chef Association (USPCA) in a magazine.
"I didn't really want to move or necessarily go into the restaurant setting," she said, explaining why she chose the USPCA course.
After a one-week course in Phoenix, Ariz., where she learned quick tips to help her prepare foods for her clients, she was ready to begin using her skills and testing the clearinghouse of recipes offered by the USPCA.
"I can cook for a family for six months and never repeat a recipe, unless it's requested," said Carter. "This takes the guesswork out of cooking for people with busy lifestyles. There's no trips to the grocery store for food and clean up is minimal."
As a personal chef, Carter first interviews a family to find food likes and dislikes, any special dietary needs and allergies.
She develops a menu based on what individual families like and has it approved by the clients before setting up a cook day.
Although Carter said she does cook for dinner parties, she is not a caterer, a common misconception people have of personal chefs.
"I don't cater, I cook in your home," she said.
After a menu is planned, Carter will bring all of her own supplies, food and storage containers to the house. She cooks 10 entrees and side dishes for a family, which is enough for two weeks.
"When I'm done your house smells great, the kitchen's clean and you don't have to go to the grocery store," said Carter.
She uses disposable dishes to store the food and leaves detailed instructions on how to reheat the items for meals. Most of the food is frozen, but food that needs to be eaten immediately is also prepared for her clients.
The food choices range from complicated dishes to simple and traditional faires. Currently, there is a demand for comfort foods, such as meat loaf and Salisbury steak, but she also makes foods such as vegetable burritos and spicy pico de gallo.
Not a big fan of ground beef, Carter said she uses ground pork and ground turkey in her meals, but will also meet the needs and desires of a family. She also offers veal, lamb and chicken entrees.
Among her recipes are turkey and black bean chili and lime and cilantro marinated shrimp. She has over 300 entrees available.
I can make things as spicy or bland as a customer wants, she said, adding that she tries to only use the freshest ingredients when cooking.
"In the summer time the bounty of fresh vegetables here is just awesome," she said.
Carter can also scale a meal to feed as many or few people as are in the family.
As she continues as a personal chef there is continued education available to Carter.
"I'd like to learn more about seafood and fish," she said.
As Carter has been cooking for her family and others, she has developed a new philosophy to eating.
"Food should be more than just sustenance. It should be something you can enjoy," she said.
For people watching their weight or trying to lose weight, she said it is possible with her cooking, which is portion controlled.
Carter also teaches cooking classes. She recently taught a cooking class on egg rolls at her church.