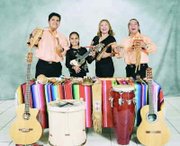 Alborada, a band with a decided Andean flavor, will be on the stage of the Sunnyside High School auditorium for a Latin music concert Sunday, March 14, at 3 p.m.
Tickets are still available for the concert, which is the third in the 2003-04 series, hosted by the Lower Valley Community Concert Association.
Milo Batista and his wife, Lourdes, and children, Jhoanna and Paul, who make-up the group, are skilled in playing more than 30 different instruments from Central and South America.
In addition to its Sunday concert, Alborada will present a outreach musical program to local high school and junior high music students Monday, March 15, at Sunnyside High School. The 10 a.m. outreach program is sponsored by the Grandview Education Association.
Individual tickets for Sunday's concert will be on sale at the door at the cost of $25. Series tickets will also be available at the door for $40 for adults and $15 for students. Series tickets will allow tickets holders to attend the final three season performances of Overholt and Velta on May 4 and Scott Kirby on May 23.