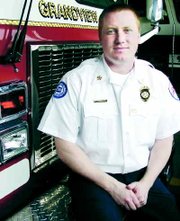 Ever since 31-year-old Charles Damron became the Grandview Fire Chief he has been applying to attend classes at the National Fire Academy in Emmitsburg, Md.
Last year, he was accepted to attend the Volunteer Incentive Program training class, which he attended last week.
The National Fire Academy offers classes in 10 different areas that are geared toward volunteer fire departments and combination paid and volunteer fire departments. The classes for volunteer or combined departments are held three times a year.
The Grandview Fire Department, with 26 volunteers and two paid staff, is a combination department.
Damron was accepted to attend the leadership and administration class at the national academy.
As a student of the National Fire Academy, Damron learned recruitment techniques, skills to keep and maintain a volunteer base, planning, human resources and managerial skills.
The academy wasn't limited to fire departments in smaller communities. Damron said one of his instructors was from an all-volunteer fire department in a Minnesota community of 80,000 people. That department is in a state that has a state run retirement system, making it possible for an all-volunteer department.
Damron explained that most of his training was learning how to meet the needs of volunteers and helping them better be able to meet the needs of the community.
Courses offered by the Volunteer Incentive Program include challenges for local training officers, command and control of incident operations, community education leadership, fire cause determination, advanced safety operations and management and presenting effective public education programs.
"I'm hoping over the next few years to take all the classes at the fire academy," said the Sunnyside native. "It's a place to learn new ideas and it's also a place to network with different people from across the country."
Damron has been a paid firefighter with the Grandview Fire Department since 1995. He became captain in 1998 and in 2000 was hired as the fire chief.
Attending the National Fire Academy, which is run by the Federal Emergency Management Agency, cost the city of Grandview a minimal amount of money, according to Damron.
Those accepted to attend the academy are provided a travel stipend and stay in housing for the six days of training.
"All we have to pay for is meals," he said.