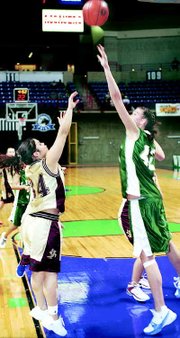 SPOKANE - The Sunnyside Christian High School girls hoop team repelled a late charge by the Snohomish County Christian Lions yesterday afternoon, coming away with a resounding 51-33 victory in a loser-out, second round game at the Class 'B' State Basketball Tournament.
Thursday's consolation round win propelled the Lady Knights into yet another loser-out affair, scheduled for today (Friday) at 12:30 p.m. against King's West (22-3). Another victory today would move Sunnyside Christian into a Saturday trophy round game.
The Lady Knights were dumped into the consolation bracket at State on the opening day by Almira-Coulee-Hartline, 69-51 winners over Sunnyside Christian. The SCHS squad that lost on Wednesday, though, bounced back in a big way Thursday.
And no one on the team rebounded better than 5'4" senior Tami Lambrecht. The feisty guard bombed in four of the Lady Knights' six 3-pointers enroute to scoring a game high 18 points.
"Brilliant...she did a beautiful job," said SCHS Coach Al Smeenk. "She made 4-of-9 on her 3-point attempts. Tami can hit 'em from out there. We ran set plays for her.
"And defensively, Tami just suffocated Snohomish's point guard," Smeenk added.
After opening a 30-14 first half lead on Snohomish County Christian, and extending their lead to 17 through the third quarter, the Lady Knights were a bit numbed when the Lions went on a 9-2 scoring run to open the final period of play. The offensive burst by Snohomish pulled the Lions to within 10 of Sunnyside Christian.
At that point, Smeenk called a timeout.
"We had been running a diamond-and-one all game long to shut down their big 6'4" girl," said Smeenk. "But when they hit those two 3's at the beginning of the fourth quarter, we had to change our defense. We switched to a 2-3 zone at that point so we could match up with those kids who were bombing them in from out there."
The ploy worked, as the Lions made only two free throws the rest of the game. For the contest, Snohomish County Christian only made 27 percent of its shots from the field (13-for-49).
Offensively, Smeenk's Lady Knights responded as well after the timeout. Junior Tyssyna Van Wingerden was the first to awake, drawing a foul. Van Wingerden, who ended the game with 11 points, sank both free throws to push Sunnyside Christian's lead back out to 12. After a defensive stop, 5'0" sophomore Emma Hernandez hit a six-foot runner in the lane to extend the Lady Knights' lead to 45-31. Hernandez, like Van Wingerden, finished the game with 11 points.
"(Hernandez), she isn't afraid to go inside against the taller girls," said Smeenk. "She can make things happen."
With time rapidly running out, Lions Coach Sasha Anderson elected to stop the clock as much as possible by having her players foul the Lady Knights every time they touched the ball. But when Hernandez made a pair of foul shots and Lambrecht followed with two of her own, upping SCHS's lead to 49-32, the handwriting was on the wall.
Smeenk substituted freely after that, with about a minute and a half remaining. Sunnyside's bench ended up taking nine shots from the foul line in the final minute and 20 seconds, but none of the free throws dropped. The Lady Knights did get a final 2-point bucket from freshman Jacqui Roberts, though, to account for the final 51-33 score.
The SCHS girls opened the game with a 10-2 scoring burst. Senior point guard Hilary Hughes, who finished with 9 points, scored the first bucket of the game by going coast-to-coast for an uncontested lay-in. Hughes finished off the 10-2 run with a transitional 3-on-2 fastbreak lay-up.
After storming out to an 18-10 first quarter advantage, the Lady Knights saw their lead cut to 18-14 when Melanie Oakland scored on a putback and then hit a 12-footer to open the second quarter. But, that was to be all the points Snohomish County Christian would get in the second period, as the Lady Knights blanked the Lions the rest of the first half. Sunnyside Christian closed out the second quarter with a 12-0 run, thanks mostly to a 3-pointer and two free throws Lambrecht drilled, to forge a 30-14 lead.
For the game, the Lady Knights connected on 33 percent of their field goal attempts (17-for-52), but shot at a better clip from behind the 3-point arc (7-for-18).
Both clubs had difficulty getting going offensively after intermission. The Lady Knights didn't score their first bucket of the second half until there was just over four minutes showing on the third quarter clock. It was Lambrecht who broke the scoring drought by sinking her third 3-pointer of the game. Lambrecht followed up the long range bomb with yet another on Sunnyside Christian's next possession down court.
The Lions played Thursday's game with just six players. Snohomish's second leading scorer this season was unavailable for the State tourney this week. Snohomish's leading scorer this season, 6'4" Tara Holgate, was the lone Lion to score in double figures yesterday, canning 10 points. She averaged 14.1 points per contest this year. Snohomish County Christian also received a pair of 8-point scoring performances Thursday from Oakland and 5'4" freshman Nicole Brekkaa.
Snohomish Christian 10 4 8 11 -33
Sunnyside Christian 18 12 9 12 -51
2-pt. FG-Snohomish 10/36 (M. Oakland 4/10), SCHS 10/34 (Hernandez 3/6, Ja. Roberts 1/1). 3-pt. FG-Snohomish 3/13 (Brekkaa 2/5), SCHS 7/18 (Lambrecht 4/9, Hughes 1/1). FT-Snohomish 4/10 (Holgate 2/4, Cathey 2/4), SCHS 10/19 (Lambrecht 4/4, Ty. Van Wingerden 4/6). Rbds.-Snohomish 38 (Holgate 7), SCHS 40 (Ty. Van Wingerden 6). TO-Snohomish 21, SCHS 13.
Snohomish County Christian-Holgate 10, Cathey 2, Jackson 3, E. Oakland 2, Brekkaa 8, M. Oakland 8.
Sunnyside Christian-Lambrecht 18, Hughes 9, DeGroot 0, Rice 0, Ty. Van Wingerden 11, Jones 0, Jo. Roberts 0, Hernandez 11, To. Van Wingerden 0, Mensonides 0, Ja. Roberts 2.