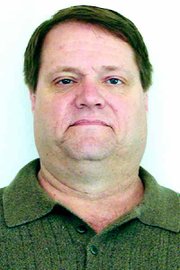 When the Sunnyside Planning Commission meets on March 10, there will be a new member waiting to give his input on building and planning issues in the City of Sunnyside.
Brent Cleghorn, 46, was recently appointed to the Sunnyside Planning Commission. His term expires on June 15, 2006.
Cleghorn, who has lived in Sunnyside for 11 years, said as a member of the local community he's concerned with the growth of the city, which is why he applied for the open planning commission seat.
"I want to help make the city a better place," Cleghorn said.
At this point, Cleghorn said he is looking forward to learning more about the different issues facing the commission.
"I'm looking forward to studying the issues and helping to the best of my ability," Cleghorn said.
He said he will use the first meeting to get acclimated to the planning commission, learning what about the current areas of concern facing the group.
Cleghorn said he feels that being a member of the planning commission he will be able to make the decisions necessary to make the city a better place.
"I know I can be fair-minded," he said. "And make the decision that is best for the community."
However, before Cleghorn takes part in his first planning commission meeting this week, he said he plans on studying all of the material that has been sent to him from the City of Sunnyside.
Cleghorn said he enjoys the way groups like the Sunnyside Planning Commission work. He explained that commissions are a good way to bring different people together to look at an issue and make a decision that reflects everyone involved.
"You gain the perspective of several people to mold your decision," Cleghorn said.
Cleghorn, who is originally from the Redmond area, said he and his wife Debbie chose to move to Sunnyside more than a decade ago.
"There were many aspects of Sunnyside we liked," Cleghorn said. "It's more down to earth as a community."
Cleghorn and his wife have four children. Cleghorn works as the publisher of Trivialities, a publication that can be found at restaurants throughout the area.