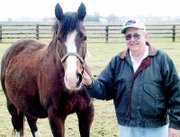 Listening to local horse breeders talk can be like listening to someone speak a foreign language. However, their love of what they do is easily expressed through their words. Last month, four area horsemen were recognized with awards from the Washington Thoroughbred Breeders Association at the 2003 Washington Champions Annual Awards Dinner held at Emerald Downs in Auburn.
Awards were presented to Guy Roberts, Walter Bell, Roy Dane and Paulson Thoroughbred Ranch. Roberts received the honor of being named leading breeder by money won; Dane received the leading sire award for his horse Slewdledo; a horse bred by Bell, Crystal Mt. Stevie, was named two-year-old champion filly; and a horse bred by Paulson Thoroughbred Ranch and Dane, I'madrifter, received recognition as the 2003 champion handicap horse.
Each of the Sunnyside area men recognized during the event has been in the business of breeding horses for years. However, each of them has their own way of doing things. For example, Bell said he does his own nicking, which is deciding which stallion to breed with his mares to produce a good race horse, while Dane offers Slewdledo to sire foals for other people's mares, as well as several broodmares owned by Paulson Thoroughbred Ranches.
Roberts, who was named leading breeder by money won for the sixth time in eight years, said he first started in the horse business years ago, starting with quarter horses. He said it wasn't until his oldest daughter became interested in thoroughbreds that Roberts recognized the amount of money that could be made in the industry.
For more than 30 years Roberts has been working as a breeder in the thoroughbred industry. He currently has three men who work for him, helping to care for his more than 20 broodmares.
Roberts explained that the award he received during the annual awards dinner is an honor that is decided by the breeder who had more of his horses win the most money during the 2003 racing season. Roberts said he had a fair amount of horses he bred running last year.
Roberts said working with the horses keeps him busy, especially during this time of year, which is breeding season.
"Foaling season is always busy," Roberts said, noting that he foals his horses in his barn, where he has a bed set up between two stalls to ensure that someone is there when the horses are ready to give birth.
Roberts said he is also working on getting as many as five of his horses ready to run during the 2004 racing season. He said most of the time he runs his horses at Emerald Downs in Auburn, although he also runs them at several tracks in California.
For Dane, receiving the honor of having the leading sire for the second year in a row was quite an honor. He explained that the award is decided based on the earnings of the offspring of the sire and their ability to win races.
Dane, a Harrah resident, said he has been a horse breeder most of his life, having started with quarterhorses. In fact, at one point Dane had a world champion quarterhorse.
However, Dane eventually traded in his quarterhorses for thoroughbreds. He explained that quarterhorse racing in the Northwest began to die out, so he made the switch to thoroughbreds.
Dane, who has been associated with Paulson Thoroughbred Ranch near Granger since 1988, said he first purchased Slewdledo in Florida in 1983 as a two-year old. He said he purchased Slewdledo because he was a direct sire of Seattle Slew.
"You couldn't go wrong purchasing a son of Seattle Slew," Dane said.
Dane then had the horse flown from Florida to Seattle, where he picked him up and brought him to the Yakima Valley.
Dane, who houses Slewdledo at Paulson Thoroughbred Ranch, said he started breeding the thoroughbred slowly, and as his foals ran better and better, interest in having mares breeded to him grew. Dane said the most mares bred to Slewdledo in one year was 104.
Dane said Slewdledo's offspring have ran in races throughout the United States and Canada, and include many champions. For example, Dane said one of the first offspring of Slewdledo, Snipledo, was one of the biggest winners, taking home more than $409,000. Snipledo is now retired from racing at a farm in California.
For Bell, receiving the award for two-year-old champion filly was an honor bestowed upon him by a panel of judges who compared race records and evaluated what the horses had done before making their selection.
Bell, who has been in the thoroughbred industry for approximately 20 years, said he grew up around horses and horse racing in Texas.
Bell said he has a small horse farm, where he keeps some mares. However, when it comes time for the mares to foal he takes them to a ranch to ensure that they get the attention they need.
Bell said he has always enjoyed working with horses, especially the breeding aspect of the industry. He said he is always trying to upgrade his mares.
Although Bell didn't have any of his own horses racing last year, he said he hopes to race two two-year olds during the 2004 racing season. He said he typically races at Emerald Downs in Auburn, as well as at several tracks in California.
Steve Meredith, manager of Paulson Thoroughbred Ranch, said having the ranch and Dane honored as being the breeders of the 2003 champion handicap horse I'madrifter was exciting.
"It makes your heart feel good," Meredith said.
He explained that a handicap horse races in graded races, of which I'madrifter is a grade three winner. Meredith explained that the higher the grade the bigger the purse is and the higher the quality of the horses.
Meredith said as the breeders of I'madrifter the ranch did everything from breeding and raising the horse to selling him.
"'We're very close to the horse yet," Meredith said, noting that the animal was sold to a friend of the ranch.