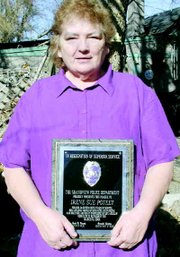 GRANDVIEW - In 1973, Grandview resident Sue Poteet was working graveyard shifts at the 10-4 Cafe. At that time of the night most of the people who came in for a hot cup of coffee or a bite to eat were Grandview police officers.
Now, 31 years later she has retired from the Grandview Police Department, with 24 years of full-time service as a dispatcher, jailer and record keeper under her belt.
She says it was her time working at the 10-4 that she became interested in the law enforcement world. It was also when she was called by then Grandview Police Chief Ted Wolfe and asked if she had an interest in part-time work as a dispatcher.
"I said, when do I start, and he said right now and walked out the door," said Poteet.
That was her introduction to police work.
From 1972 to 1975 Poteet worked part-time at the police department. She then spent five years with the Prosser Police Department before returning to the Grandview PD in 1980.
She said in the early days as a dispatcher she worked more for the fire department than the police department.
"When there was a fire call I had to go out and start the fire trucks," said Poteet.
Working with the fire department also interested her, so she started as a volunteer for the Grandview Fire Department. She served 29 years before retiring in 2001.
"Working at the Grandview Police Department never seemed like work to me," said Poteet, who moved to the community when she was in the eighth grade. "When you work with good people it doesn't seem like a job or work."
Although her retirement officially started in February, she hasn't been on the job since January because of a stock-pile of vacation time. Poteet said she has spent most of the past two months filling out the paperwork to get the retirement process started. She has also been traveling and hopes to do more in the near future.
"I miss being around the people a lot," said Poteet. "I also miss the job. It gives you a reason to get up in the morning sometimes."
She said the best part of her job was having kids, who had been in trouble in the past, come back and tell her how much she helped them.
But it wasn't only kids that are touched by those at the police department. She said elderly people, who don't have family in town, would call up just to talk or would bring by goodies to share with the department.
"You see people at their worst moment of their lives in police work," said Poteet. "It's nice to be in on some good things, too."