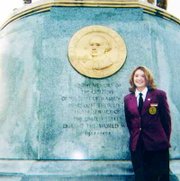 GRANDVIEW - Rather than watch Fourth of July fireworks from her home, Grandview High School sophomore Ashley Lara will have the opportunity to see the sparklers light up the sky over the nation's capital this year.
Lara has been selected to attend the Presidential Classroom Scholars Program in Washington D.C. July 3-10.
"In January of this year I served as a Senate Page at our state capital," said Lara. "I have recently been accepted to the Presidential Classroom. I am very excited to further my knowledge and interest in politics."
During the week-long program, Lara will interact with Washington insiders, including members of Congress, presidential appointees, senior military officials, top business leaders and journalists. She will also have the opportunity to observe the U.S. Congress in action. And, she will have the opportunity to debate current issues with her peers from the United States and abroad.
Lara will also be able to visit the White House, which is by special invitation, the U.S. Department of State and Arlington National Cemetery. She will also be briefed by the Central Intelligence Agency, visit foreign embassies and participate in a mock presidential election.
"Our students meet and question the people who make and shape our nation's policies. No other program melds leadership, academics and current events in such an appealing combination," said Jack Buechner, former congressman and CEO and president of the Presidential Classroom Scholars program. "Our students return home with a new perspective on American politics and the world."
Since 1968, the Presidential Classroom Scholars program, a non-profit and non-partisan program, has hosted more than 100,000 of the best and brightest high school juniors and seniors from around the world.
The sophomore is active at her high school, participating in DECA, Key Club, International Club, the varsity cheer squad and the varsity golf team. She is also involved in her church and is a church volunteer. She also has interests in politics, current events, history, sports, music and martial arts.
She is looking for anyone interested in helping sponsor her trip to Washington D.C. Those interested can contact Lara, 882-8059.