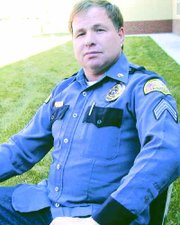 Jim Williams still remembers where he was at when he was told by a Sunnyside police officer that he was to go down to city hall and fill out a reserve officer application.
Sgt. Steve Evans approached Williams while they were both at a Lincoln school dance. Williams, who had just been discharged from the U.S. Marines, was working maintenance and Evans was providing security.
"He came up to me and asked if I was Jim Williams. When I said yes, he told me I was to go down to city hall and fill out an application."
Williams took Evans' advice, and that's how his 22 years with the Sunnyside Police Department reserves was started. Since then he has logged an estimated 10,000 hours of volunteer time for the city of Sunnyside.
This past week, Williams was named to fill the lieutenant position, which is the lead role in the reserve department.
Williams has stayed with the program because he feels it is a way to volunteer in the community and work with people.
"It's never a dull moment down there," said Williams.
As a reservist, Williams and the 15 other members of the program do the same work paid officers do, but on a purely volunteer basis.
Currently, the program has room for nine additional reserve officers.
As the new lieutenant, Williams will set up training for the reserve officers, help with the reserve budget and interview perspective reserve officers.
Williams had to apply for the role of lieutenant. After going through testing, the applicants, who had to be sergeants in the reserve program, were interviewed by the Sunnyside police chief and captain.
To qualify to apply for lieutenant, a reservist had to be a sergeant for at least two years. They had to have attended the academy, be in good standing with the department and volunteer 26 hours a month.
Only three met all of the requirements, said Williams. He replaced Ron Price on March 7.
A native of Seattle, Williams moved to the Lower Valley with his family after his time in the military.
"I had family over here and after I got drafted for Vietnam I came over here to visit some relatives," said Williams. After actively serving in the military he moved to Eastern Washington. He was a Marine reserve for 17 years.
Williams is married to Linda and is employed by the Sunnyside School District.