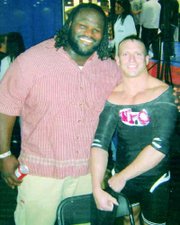 Ever since he picked up his first dumbbell, Joe Luther has dreamed of taking part in the prestigious Arnold Classic, organized by current California Governor Arnold Schwarzenegger.
But, the 24-year-old Outlook resident didn't nearly get to live out his dream, as a bicep injury had him thinking twice about taking part in the event.
Earlier this year, Luther received his invitation to attend the Arnold Classic, which was staged March 5-7 at the Greater Columbus Convention Center in Columbus, Ohio. Luther gained an invitation to the competition after sitting a world bench press record in the junior men weight class (165 lbs.), which is currently 458.3 lbs.
About five weeks before the competition, Luther sent in all of his necessary paperwork to attend the invite. While working out with his brother, Lee, Luther injured his bicep, which nearly prevented him from attending the Arnold Classic. Luther credits Don Parsons and the physical therapy he was able to perform on the injured bicep for him being able to attend the Columbus, Ohio event.
The actual event itself was huge, said Luther. The California governor was in attendance at his own event, as well as Sylvester Stallone and other body builders such as Lou Ferrigno. Luther also said every fitness company imaginable was in attendance. The events at the Arnold Classic included arm wrestling, fencing, gymnastics, powerlifting, martial arts and cheerleading.
The convention center in Columbus is enormous, Luther added.
"Just the room I lifted at you could have easily fit three (Yakima) SunDomes in," said Luther.
There were more than 80,000 spectators on hand during last weekend's event.
There were only 24 people from throughout the world invited to attend the bench pressing portion of the Arnold Classic. Luther said there were eight lifters participating in the junior men division, which he competed in.
Luther finished fifth in the junior men's division, bringing up 440 lbs. on his second lift.
"I lifted very badly," said Luther. "I was very disappointed with my performance."
Luther said a lot of his problems had to do with the time he waited to take part in the event. Organizers told the lifters they had 20 minutes for warm-ups before the actual competition took place.
"20 minutes turned into two hours and 10 minutes," said Luther.
The bench press competition was delayed because of other events running past the allotted time.
After the bench press competition finally began, Luther had trouble with his first lift of 418 lbs. Luther said his back started to cramp up so he had the spotters take the weight from him. Luther had 12 minutes before his next lift to exercise the kinks out in his back. On his second lift, Luther easily brought up 440 lbs. On his third attempt, Luther wanted to try for 462 lbs., which would have been a personal best for him. However, Luther ended up having the lift taken away from him after the judge ruled he flared his elbows, which meant he didn't properly perform the lift.
"I was not very happy with the ruling," said Luther.
The junior men division was won by Marcus Scumch of Germany, who cleared an impressive 610 lbs.
Luther was the youngest and lightest lifter taking part in the bench press competition. Luther said the oldest lifter he knew of was 41 years of age.
The experience of living out his dream of the past decade was "...very humbling," admitted Luther. Luther said he found out how much showmanship really does go into some of the largest events such as the Arnold Classic.
"They really, really wanted a big show," said Luther. "They wanted big numbers."
The event was so large, Luther said, that when he went to compete he couldn't even see across the room because of the number of spectators.
Despite his performance, Luther said he would consider going to the Arnold Classic again. He said the event has sparked him to want to train harder to be more competitive. Luther said, though, he was delighted to receive an invitation to the prestigious showcase.
"It makes me feel good," said Luther. "It is every bencher's dream. It is the highest event you can get to."