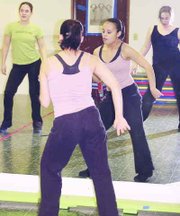 Sunnyside jazz dance teacher Kristine Gimlin is too excited to sit still for very long when she starts talking about her coming trip to Denver, Colo.
In April, Gimlin, a Martin School of Dance ballet and jazz instructor, will compete in a national "hip hop" competition hosted by some of the nation's most important music video choreographers.
"I'm going to be dancing in front of some of my heroes in the dance world," she said of the unusual opportunity.
"It's a dream come true," she smiled.
Making her achievement even more noteworthy is that the 4'11" woman started taking hip hop dance lessons less than a year ago.
Gimlin, who began dancing in middle school, participated on the Prosser High School dance team for four years. "I dreamed and planned to go to California following high school graduation to be a dancer," she said.
But hip and knee injuries sidelined the young woman for three years. She only recently began dancing again and joined the Martin School of Dance's pool of instructors just two years ago. Since that time, in addition to teaching pre-schoolers the rudiments of ballet, Gimlin has taught advanced jazz techniques at the Sunnyside dance school.
In order to improve her own abilities, last summer Gimlin decided to start taking hip hop dance classes at the Westlake Dance Center in Seattle.
She said it was serendipity that talent scouts saw her dancing in mid-February. Representatives of national talent agencies, who were in town seeking new dancers, happened to drop in at the center where Gimlin was in a hip hop dance class.
"They asked me to take part in Monster Hip Hop auditions," she explained. Gimlin describes hip hop as a very loose, physical style of dance that combines rigorous and rhythmic jazz-step type moves.
"I was surprised when I was asked to take part in the Monster of Hip Hop auditions," she explained.
Her invitation to compete in Denver came after talent scouts watched as Gimlin moved through three cuts from among the hundreds of young dancers, all hoping to catch the eyes of the scouts.
"It was the best time I've ever had dancing," Gimlin admitted.
She said her biggest thrill of the weekend came when she met her idol, Mr. Wiggles, the self-proclaimed founder of the hip hop dance craze.
"He gave me a compliment on my dancing," she said.
The agencies gave out scholarships to the top two dancers at the Seattle "Monster" audition, Gimlin said. As one of the top 10 dancers ranked at the event, she rated a special invitation to attend the Denver event. "I was encouraged by Mr. Wiggles to participate in Denver," she explained.
"It's a realization of a dream," the 23-year-old Prosser woman said. While she doesn't plan to run off to California now to be a dancer, she does plan to share her newly found expertise with local students. She said the two-day adventure in hip hop has cemented her decision to teach. "I really want to take my students to the next level," she said.
"I feel I can help others realize their dreams," she said.
"But it was a great thrill to be recognized," she added.